UPDATE LOG
You have already bought the "Soccer Intro Animation"? In order to get the latest version please re-download the project file. 

Simply go to your profile page and click the "Downloads" tab.

Update V3 – 04/25/2018
- Ready for Russia 2018 we have created a new digital effect to the player and the logo animation.
- We also added a new digital glitch sound effect to the logo animation.
- The newly added changes have no effect on the workflow, so there were no changes made to our tutorial.
- V2 (Old Visual Effects) and V3 (Russia Digital Effect) have been added to the project.

Update V2 – 06/4/2016
- Now implement your own emblem or flag as player silhouette.
- Now the template comes with professional Sound FX! No need to buy them seperately!  
- New step by step Video Tutorial in our YouTube Channel. 
Soccer Intro Animation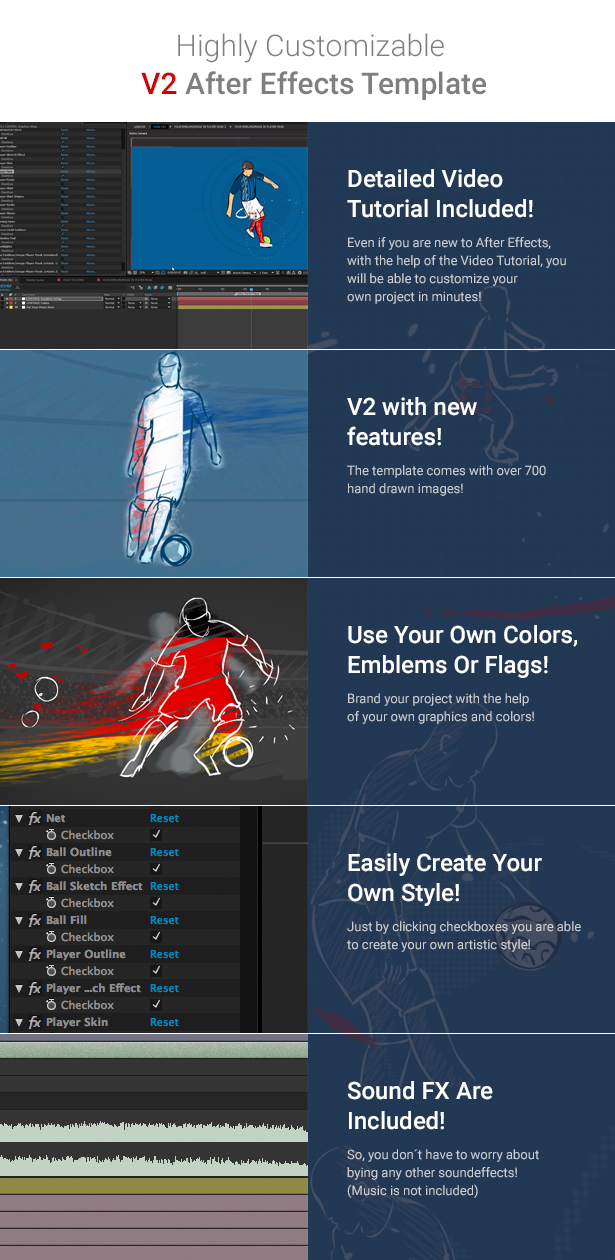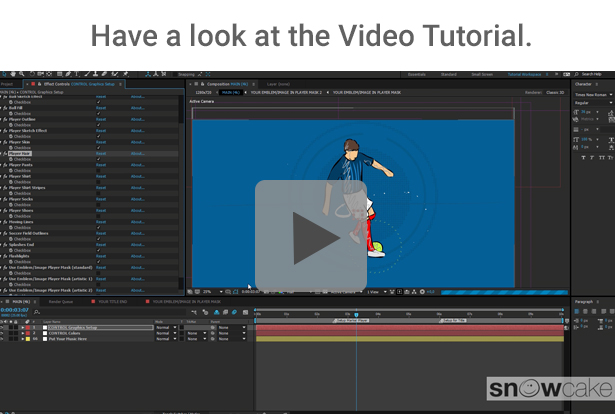 ABOUT THE PROJECT
Snowcake presents: A highly customizable and very easy to use video opener project with placeholders for your very own logos, graphics and titles, image- and video-backgrounds!
Use this dynamic opener to present your soccer-themed content! For intros, public viewings, events or even your very own soccer team!
• This project comes in Full HD and web-friendly resolutions!
• Sound FX, which we recorded in our studio, is INCLUDED! (Please order music separately!)
• Choose between different artistic styles, combine them or use them individually!
• Change all colors! Put in your own or your clients logos, claims and titles!
• Our step by step video tutorial will guide you through the customization process – It's super easy!

PREMIERE PRO VERSION
Get the Premiere Pro Version Here

MUSIC (Not included – please order from provided link below) Order music from Shorties

FOOTAGE WE USED IN PREVIEW AND TUTORIAL VIDEO (Not included – please order from provided link below) Order video from giero_pl

PLEASE RATE If you like our work, let us know and rate this project. Thanks for your support!
WE ARE THERE FOR YOU If you have any questions or suggestions, please don't hesitate to e-mail us at SUPPORT@SNOWCAKESTUDIOS.COM

GOOD LUCK AND LOTS OF FUN WITH YOUR PROJECT!
Your snowcake team
RECOMMENDED
SOCCER INTRO OPENER
SOCCER OPENER PRO
SOCCER PRO ANIMATION

BOXX ME – Titles and Lower Thirds

OFFSET TITLES

PORTFOLIO