New Year's Eve is the time for the sophisticated elegance. Celebrate 2015 New Year's Eve with a classy and elegant countdown clock.
The great music "Last Minute Of The Year" from the preview, is not included. You can purchase this music of the great AudioJungle author Leto, here: http://audiojungle.net/item/last-minute-of-the-year/831261
Notes:
There are 9 footages with "Happy New Year!" text in 9 different languages in this motion package: Bulgarian, Croatian, Czech, Hungarian, Italian, Latvian, Polish, Russian and Turkish and a footage with the clock with the last minute of the year.
In your Video Editing Software, link the "Clock" footage and the footage with "Happy New Year" in your language, add the sound "Last Minute Of The Year" and export the movie.
The clock is ready to play 1 minute before midnight
HD 1280×720 25 fps
Duration: 1:35
If your language is not included in this package, please check other "New Year's Eve Countdown Clock Motion" packages.
If you need a personalized Countdown Clock for New Year's Eve, please check these After Effects Projects: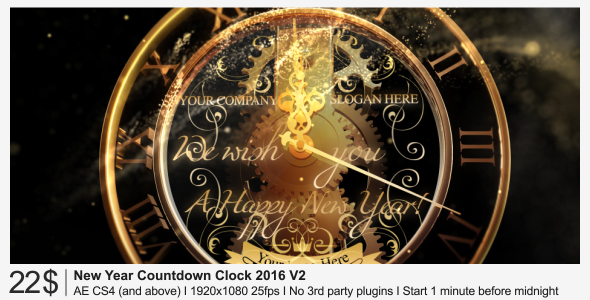 Thank you and please rate if you like it!
Happy New Year!