Glowing Scribble Lines – neon fx pack – liveview friendly
"Glowing Scribble – Neon FX Pack" is an aftereffects template contains (300 Animated Neon Glowing Scribble Elements) + (Neon FX) scripts that helps you in creating beautiful videos in neon style and liveview free toolkit to manage this projects more faster.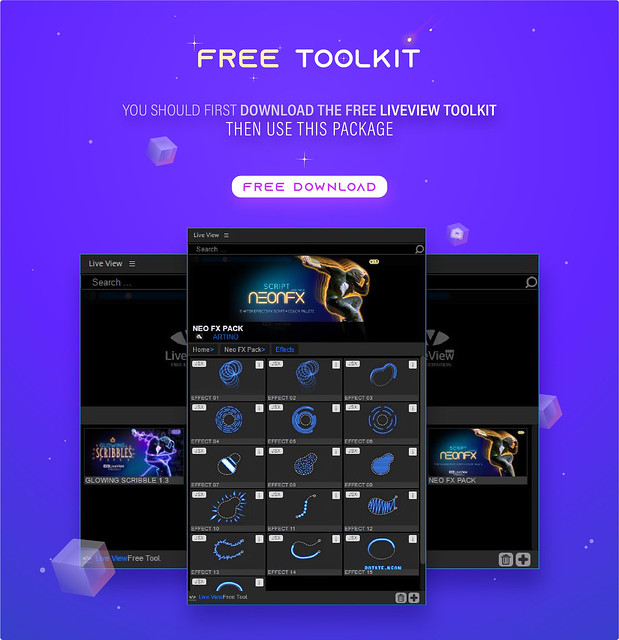 Animated Neon Elements:
These complete package contains animated scribbles: backgrounds, explodes, borders, bubbles, lightning's, smoke & liquids, symbols, line animations, text animations, mustaches', glasses & much more.you can change glowing lines color and width, Each element of these package has many controllers to customize colors, line width, neon Flickr, glitch & much more. You can use each elements anywhere such as lyrics, sports or create your own video with neon style. Combining them with each other or with your videos brings beautiful results for you.
Live View extension is very fast user friendly extension fore adobe system for helping users to use big packages more easier. you can use it in adobe after effects cc 2018 and above version. Get the Free version of our templates and check the quality on your system. You can ask any question on our official website and if you had any problem we can solve it soon as it possible .




Categories:
Background Loops
Borders
Bubbles
Connections
Explode
Facial Items
Fire
Friction
Glasses
Gun Shot
Lightning
Liquid
Motion Lines
Mustach
Objects
Play & Rec
Smoke
Star
Symbols
Tails
Text Reveal
See More Usage In Old Preview
Neon FX Script
Neon FX script helps you in selecting a part of video (for example a character) & highlighting it with neon style. The script contains various neon highlighter styles. also a complete video tutorial about using scripts & elements in several parts that helps you in reachto your favorite result. All of the footages On the preview are under the creative commons CC and didn't used in the project . You can find them in the links below :
Features
300 Elements with Huge Usage
Edge neon Script with 16 samples & 8 premade colors
180 Cool handy Frame By Frame Animations
6 Neon Connections with point controller
6 Neon Style text annimatons
Expression controller customizable Emements
More than 10 controllers For Each Element
Color Customizable
Adjustable elements lines width
Random color ability
Adjustable flickr
Full Video Tutorial
After effect CC 2018 & above
Full HD 1920×1080
Universallized Expressions

Videos All of the footages On the preview are under the creative commons CC and didn't used in the project . You can find them in the links below : Thanks for nice videos :
Sport Footages Link: High Jump | Drift Racing | Man Diving in Swimming Pool | Boxing and Sport Concept | Female Modern Style Dancer Dancing in Studio
Music
Thatnks for the great music by hit-me : dubstep