Included
2 Projects
FFX Transition Presets
Tutorials
About
Hello! You can use ready-made and customized and well synchronized templates. To setup these projects will require a little time. You need to insert an image and change the text. You can also add titles from other projects (there are special lesson – text from other autors). Setup is simple and fast.
But also you can use the universal project as a slideshow builder that will help make your presentation a unique. You can change the camera animation, the duration of each slide and transitions of all directions without animated keys! For all these settings, there is a pop-up menu and sliders. To do this, I wrote a detailed lesson how to make custom project.
New Features







Transitions Presets – One Click to Change Direction



Transitions Styles


Well Organized Settings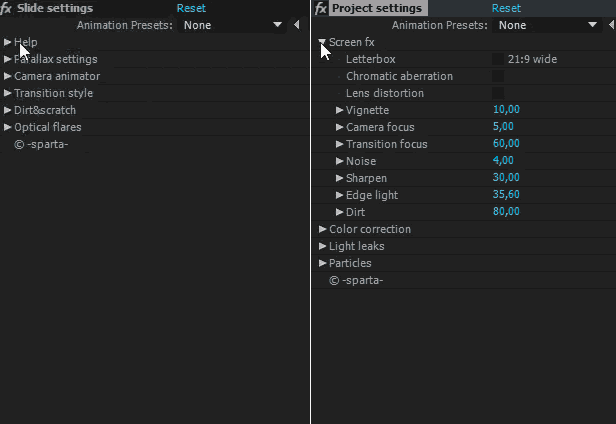 Main Features
CC 2015 and above
No plug-ins required
Easy to edit
Modular structure
Output to wide screen included
Fully customizable
Video tutorial included
Well Organized
Project Characteristics
Full HD 16:9 (1080p)
Full HD 21:9 (803p)
Floating text project duration 1:30, 23 slides + 10 additional slides
Preview project duration 0:50, 17 slides
In each slide there are placeholders for logo, text and sprites
Other
Videos and images used only for preview purposes under CC by 3.0
Note!
Due to the fact that the project has many handy controllers render time is not fast. Project duration 1 minute will is being rendered about 2 hours. But it's worth it!
Support 24/7
Contact me: iandrienkov@gmail.com
Openers
Logo stings
Perfect for:
production reel, dynamic slides, kinetic typography, simple slideshow, modern fashion promo, modern opener, intro, sport opener, sport intro, music promo, fashion promo, dynamic slideshow, special events, travel slideshow, movie / tv show opener, corporate, business, elegance, fashion, automotive, holiday, vacation, wedding, summer memories, family trip, my video, simple, special event, fast slideshow, corporate promo, business promo, my journey, happiness, moments, corporate intro, company promo, sport promo, event promotion, demo reel, sport intro, sport promo, production reel, business opener, corporate presentation, epic, trailer, family album, video displayintro, vintage, story, style, design, awards, clothes, holiday, summer journey, magazine, mobile, store, shop, travel Agency, love story, inspired, inspirational, sport,promo, motivational, corporate intro, dynamic opener, inspired, travel, quick slideshow, photo, scrolling, product explainer, product description, product, demo, stylish minimal slideshow, video slide,official, majestic, roll-in, introduction, head section, head, lead, leading section, introductory, statement, synopsis, entracte, intermezzo, intermission, trasition, decorative, elements, stage, scenography, scenographical, scenic, TV show or TV channel brand, broadcast package, production demoreel, fast slide, stylish, quick, modern, minimal titles, action promo, app promo, music event, trailer, travel adv, vacation promo, summer intro, digital marketing, social, minimal, clean, promo, simple slides, inspire reel, holiday promo, travel slideshow, motiovational, youtube channel promo, website intro, travel promo, documentary promo, lovely, parallax, short dynamic slide, short slideshow, short intro, presentation slideshow, inspirational, urban, memorial or bright moments, ceremony, oscar, hollywood, anniversary, short powerful slides, reel, dynamic typography, inspiring, summer vacation, wedding Slideshow, special event, travel trailer, travel slideshow, holiday slideshow, typography explainer video, kinetic typography intro, photo album, christmas, birthday, night party, emotional, holiday, sport opener.