The Video Caption Presets are a set of 10 presets that will allow you to easily add caption text (text overlay) to you video in just one click. Double click the preset you want to use, then edit the text and color, and everything will work automatically. The text will animate in at the layer in point also animate out at the layer out point. You have full expression control to allow you to set, colour, text speed in, text speed out, text position in and text position out.
Feature List
10 differents presets
Support any video resolution (4K – Full HD – Mobile/tablet resolution)
Auto In/Out – no keyframes
Ability to change color with expression
Ability to edit in/out position with expression
Ability to edit in/out speed with expression
Video tutorial with voice over
Required after effects CS4 and higher
Music :
Not included, You can purchase it from audiojungle.net : here.
Support
Full technical support included in item price! We provide super-fast support for queries relating to the use of this pack.
Credit :
Gianmarco Boccaccio
Kin Things
Need something same for premiere pro? Please check this MOGRT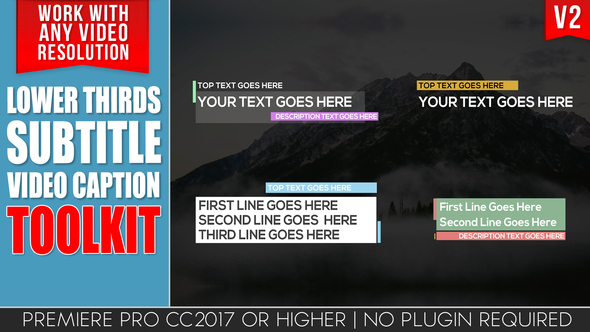 Please support my work by rate my file after purchase





Thanks
Stay up to date: