Teampro is perfect template for teams! Project is very user friendly and pleasant to work with. Hope You'll find it interesting!

Main Features
Works for Adobe After Effects CS5 and above
Resolution FULL HD 1080p & HD 720p
No plugins needed
30fps & 16bpc
Duration 01:28 min
Modular structure
Easy editable and well documented
Partly synchronized animations with music
Detailed step by step help file
Fast feedback and great support!
Project Features
Everything is coded, so You can edit template with few clicks
All colors are editable, including opacity and color of shadows
Adjust length of Heads, if You need more space for text
Scale Intro String Size, for larger name of company and welcome message
You can choose Shape of Logo or turn it off
2 video placeholders and 12 photo placeholders (Projects & Gallery only)
Team controler allows You to chose how many people You want to present.
Its interactive setup for selection from 3 to 9 people, their genders or photos, names and occupations.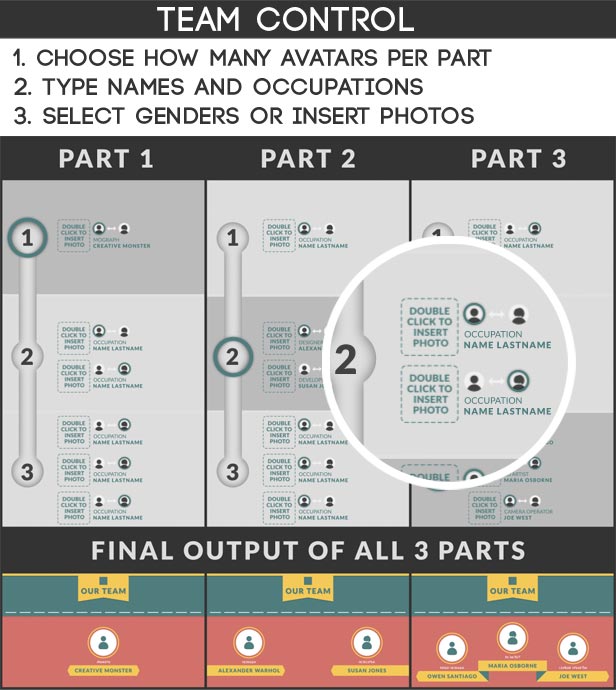 Fonts
All fonts are free for download.
Socialico is font used for social media icons where every icon matches a particular key on keyboard. Package includes 74 icons and You can check it on the following link.
Music
The soundtrack used in project is by migueljl.
The soundtrack used later in promotion is also by migueljl.
Photos
All illustrations are by Bloomua which You can purchase.
Notice that You don't need large formats for this project.
Gallery 1 Our Workspace
Gallery 2 Brainstorm & Thinking
Video
Used video is under Creative Commons and it has Attribution Share Alike License.
Customization, Rendering Service & Support
If You have any question or trouble customizing the template, please drop me an email through my profile page. I'll be glad to help You!
If You don't know how to use Adobe After Effects, I provide low fee customization & rendering services.
For more information or if You need support, please contact me by email at skvifi@gmail.com