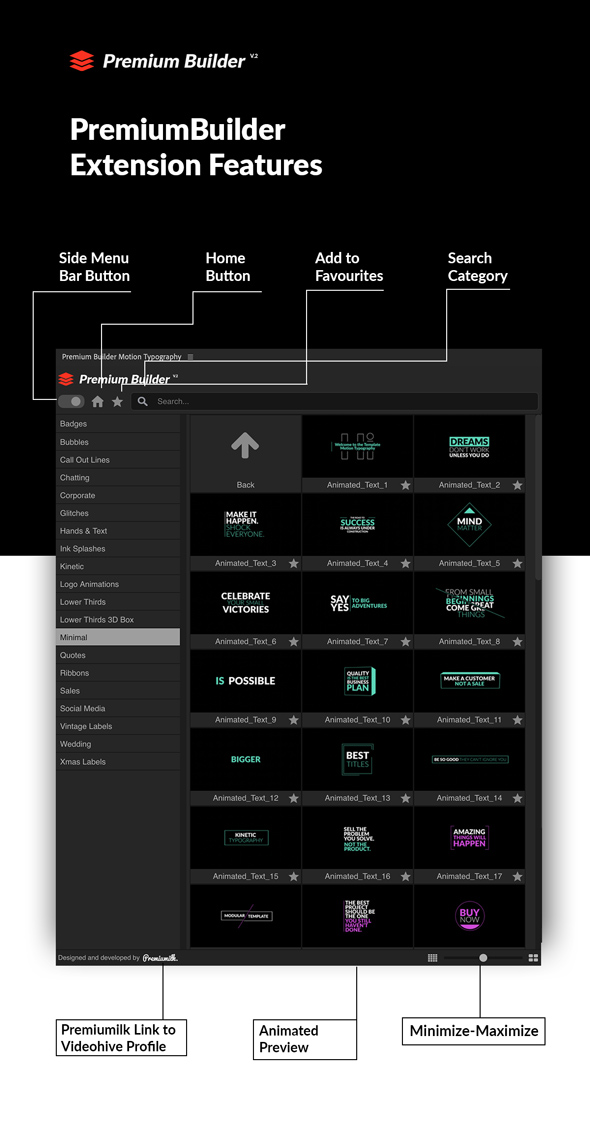 MINIMAL LOWER THIRDS CORPORATE SALES KINETIC BADGES RIBBONS BUBBLES QUOTES GLITCHES (Sound Effects Included) WEDDING VINTAGE XMAS Motion Typography Essential Graphics | Mogrt

Features:
Adobe Premiere CC 2019, CC 2018 Compatible Project
4K Resolution (3840×2160), Full HD resolution (1920×1080) pixels, Resizable
300+ Animated Titles
Simply & Easy to Edit
Customise Colours, Size, Tracking.
Auto-Resized Box based to the text.
Fast & Free Support 24/7
Easy to follow Tutorials Included with voice over.

PremiumBuilder Extension Features:
Works on After Effects 2019.
Home Button
Minimize – Maximize
Add to Favourite Category
Side Menu Button On/OFF
Search All or Search inside a category
Premiumilk Profile Videohive Link

Categories Included:
64 Minimal
16 Lower Thirds
16 Corporate
16 Sales
16 Kinetic
16 Badges
16 Ribbons
16 Bubbles
24 Quotes
16 Glitches (Sound Effects Included)
16 Wedding
40 Vintage Labels
16 Xmas Labels

Rate if you like it in your downloads section!
Thanks