You may also like this promo with the latest mockup
Mobile Phone Mockup
"The Mobile Phone Mockup" is a cool simple and elegant template with attractive animation style made specially for anyone who wants a cool mockup to display and present here mobile app, website ore commerce in easy, elegant and attractive mode. all work was done in after effects, and all mobile phone are pre-rendered form 3d software, this template based on 9 scenes, you can use each one separately. no plugins required, 3 different version from each scene included, iOS, Android and mix with both iOS and android using the latest mobile mockup in the market. a useful expression control will help you to change easy with one click all colors, It's perfect for any type of app and game with portrait design spatially for fashion, kids, sport, health,
Special Feature:
Attractive animation style
New mobile mockup
each scene come in both iOS and Android Device
Ability to change, images and text easily for each scene separately
Ability to change, colors easy for all scenes together with expression control
Ability to change, colors easy for each scene separately with expression control
Ability to reorder scenes easily and create your own promo.
Universal Expression compatible with any AE language
All mobile phew are pre-rendered so it's super fast in render.
Transition effect included with each scene.
No plugin required.
Change texts and pictures easily
Well organizsed template
Helpful Video tutorial with voice over
Resolution available: Full HD
AE Version: Adobe After effects CS6 or Higher.
Font :
not included, but can be downloaded for free, link included in the help file.
Music :
Not included, You can purchase it from audiojungle.net : here.
Credit :
Big Thanks for: Tung Vo Chi. For offering this great free Concept App Moon heart.
Customization :
If you don't know about using Adobe After effects or you want to customize this template or you buy this template and you need help, please contact me using contact form in my user page.
Do you need a full app promo toolkit in 3D style? check it here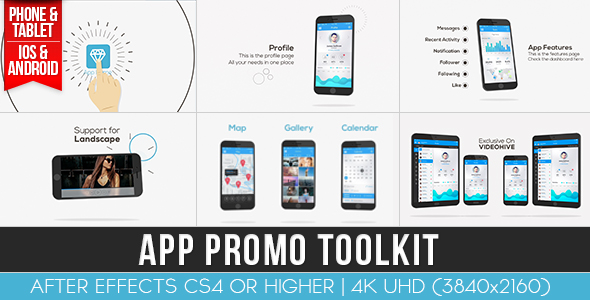 Please support my work by rate my file after purchase





Thanks
Screenshots :