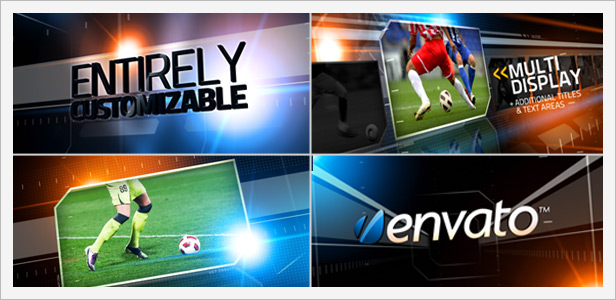 SYNOPSIS
One of the best templates available! Full Capacity is a high energy, intense and energetic animation that is perfect for extreme or professional sports shows, concert events, night clubs, and TV promos, commercials or opens that need to have incredible impact to captivate the audience and impress your clients.
With multiple types of scenes and plenty of placeholders for your video, photos or graphics, this project is fully and easily customizable. Use the pre-built edit, or create your own using the scene compositions within the project.
This is one of the most powerful and versatile After Effects templates you'll find anywhere. Included with the project is a detailed 50-minute video tutorial, helping to guide you through the customization process.
PROJECT HIGHLIGHTS
Fully and easily customizable – Change the colors in 2 simple steps! Get a completely new look with just a few clicks
Multiple scenes and plenty of content placeholders for your video, photos, graphics, textures, etc.
10 pre-built text/title placeholders
Easily create a completely different animation! Use the pre-built scenes to edit your own full composition
No Stress! The project comes with a 50-minute video tutorial which helps guide you through the customization of the project
Works with After Effects CS3 and above
No 3rd-Party Plugins Needed
Any resolution! Comps are set up for HD 1080, HD 720 or SD 480 Widescreen
AUDIO & FONT
Music, sound effects and stock footage is not included in the project. (Sound effects from VideoCopilot Designer Sound FX)
The incredible soundtrack "Energetic Pumping Electronic Club Track" by adamjamescuz. It can be purchased on AudioJungle here.
The font "Titillium Text" can be downloaded here.
STOCK FOOTAGE & IMAGES
The stock footage and images seen in the preview video are not included with the project.
UPDATE LOG
v1.0: Original Version
v1.1: Converted video tutorial format to .mp4
SUPPORT

We proudly offer support on all of our products, and do our best to respond to your inquiry within 24 business hours. Please use the links below to follow our social networks and be up to date on current support status. We're located on the east coast of the United States (-5 GMT).
CONNECT WITH MOTIONREVOLVER