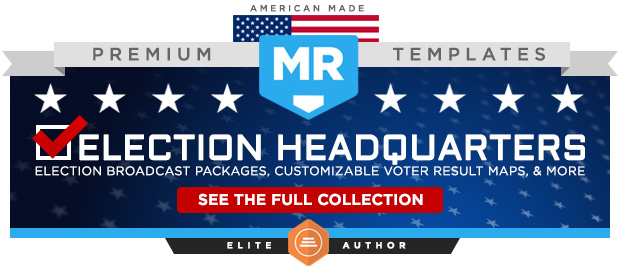 United States Midterm Elections – November 6, 2018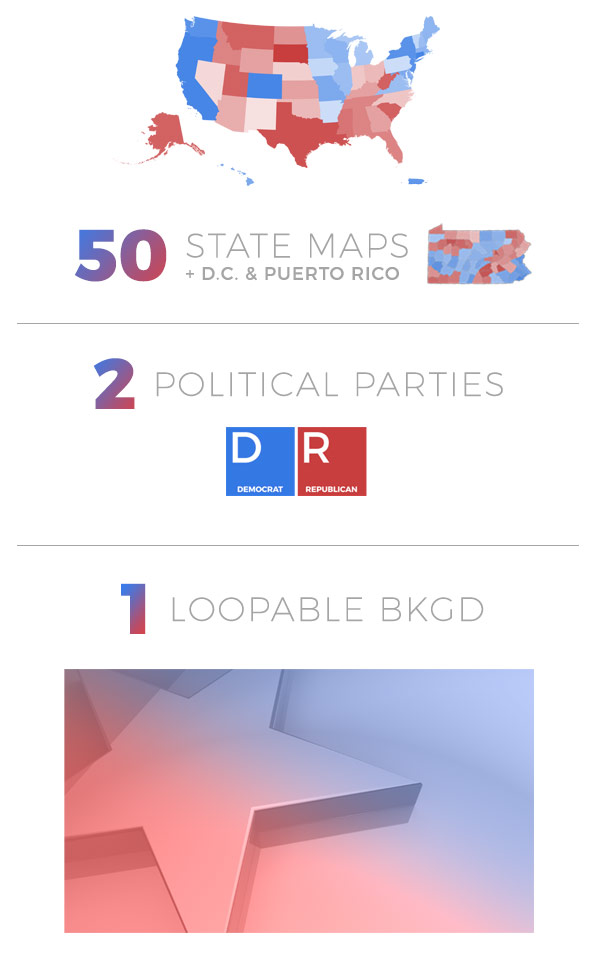 ELECTION MAP LITE SYNOPSIS
Election Map LITE
is the simplest, easiest, yet most powerful way to build an election results show.
Election Map LITE
is incredibly simple to customize, with intuitive, easy-to-use data entry interfaces, so you?ll be able to create a professional election results graphics with minimal effort.
Featuring maps for ALL 50 United States
, plus Puerto Rico and the District of Columbia, this dynamic, robust package gives you the ability to showcase the election results from up to
2 political parties
such as Democrat and Republican.
Election Map LITE
comes packaged with a detailed video tutorial file, covering all aspects of the customization process.
Simply put, there?s never been an easier way to build an election results package.

ELECTION MAP LITE PROJECT HIGHLIGHTS
Voting results for ALL 50 United States, including Puerto Rico and D.C.
Election results for up to 2 POLITICAL PARTIES, such as Democrat and Republican
Easily customizable! Our intuitive customization interfaces make it incredibly simple to change the look of the project, and input the latest voting results
No Stress! To help you along with the process of customization, we've Included a detailed video tutorial
Ultra HD 4K Resolution! Easily down-convert to 1080p (Down-conversion tutorial is included)
Works with After Effects CS5 and above
ELECTION MAP LITE AUDIO
ELECTION MAP LITE FONT
We
HIGHLY RECOMMEND
that you use the free
Montserrat
font for this project, which can be
downloaded here.
ELECTION MAP LITE STOCK IMAGES
The stock images and political candidate headshot seen in the preview video are not included with the project, but you can import and use any images or video that you wish.
53 ELEMENTS INCLUDED IN ELECTION MAP LITE
50 State Election Result Screens + Puerto Rico & D.C.
Popular Vote Election Map Screen
Electoral Vote Election Map Screen
1 loopable, pre-rendered 3D background animations
LIKE THIS? CHECK OUT ELECTION MAP PRO!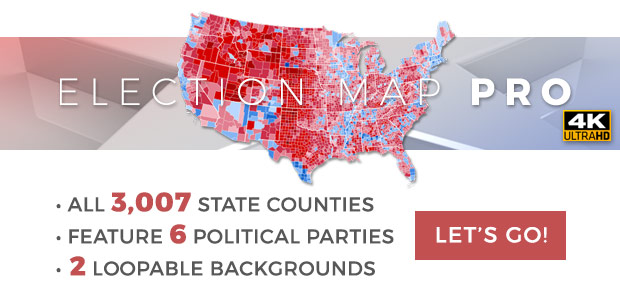 ELECTION MAP LITE SUPPORT

We proudly offer support on all of our products, and do our best to respond to your inquiry within 24 business hours. Please use the links below to follow our social networks and be up to date on current support status. We're located on the east coast of the United States (-5 GMT).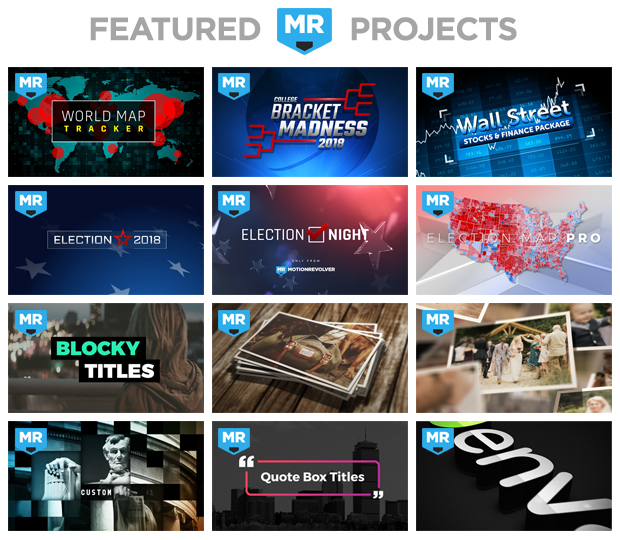 CONNECT WITH MOTIONREVOLVER