Featured Templates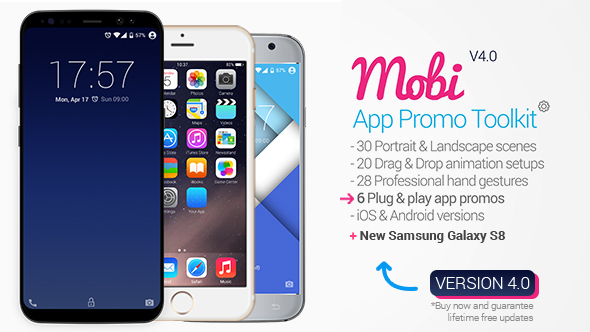 Easily Create Your Own eBook Explainer Video With This Amazing Easy-to-Use Tool Kit.
You have created your ebook, but now you need to promote it! Nothing sells a book like your own high quality Explainer Video. We've created the detailed template you need to easily create your own Explainer Videos. Simply open the template, choose which scenes you want to include, and PRESTO! – Your professional Explainer Video is ready to upload and be seen. Specifically crafted to promote ebooks, this modular template gives you a simple 1-2-3 way to create your own expert videos in no time! Get started NOW and take your book to the top!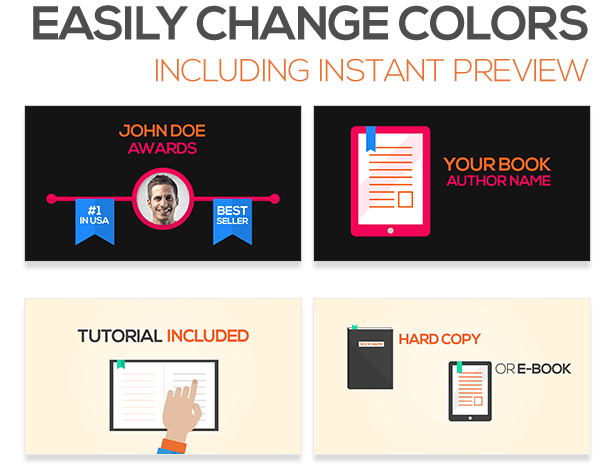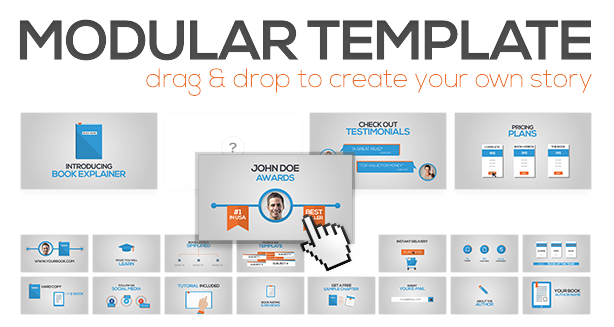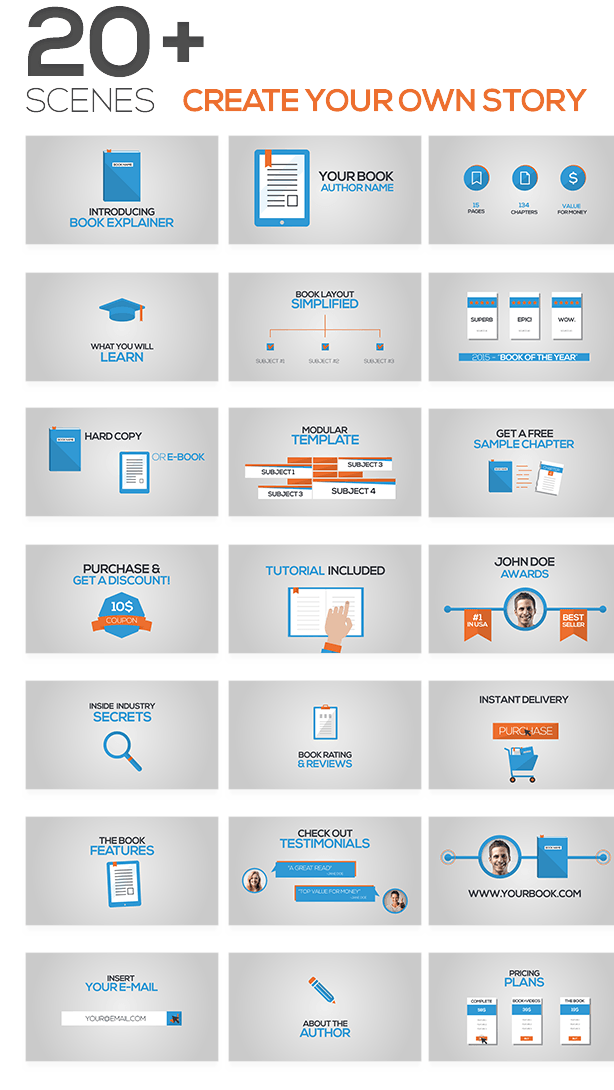 Full e-Book Explainer Video Project Features:
20 Modular Scenes (Drag & Drop to re-order)
Full Story Length 2:15 (Shorten to any custom time)
Change All Colors in Seconds via Color Control
User Friendly – Well Organized & Super Easy To Edit!
Video Tutorial Included
100% Modular Project
Build Your Own Story (Mix, Combine, Delete any scene)
FullHD 1920×1080 (Vector format – scale up to any size)
All .AI files included
30+ Animated Elements
5 Animated Burst Effects Included
Flat & Modern Design (no plugins needed)
20 Modular Scenes (drag & drop to re-order):
(1) Introduce New Book, (2) Book Name by Author, (3) Point of Interest,(4) What You'll Learn, (5) Book Layout, (6) Features, (7) Insiders Secrets, (8 ) Rating and Reviews, (9) Ratings, (010) Testimonials, (11) Free Sample, (12) About Author, (13) Author awards, (14) Purchase, (15) Pricing Plans, (16) Social Media, (17) Book Formats, (18) Book Guide, (19) Coupon, (20) Website Link.
Complete your e-book marketing toolkit with these related products:
Credits
Music used in preview, not included: Upbeat, RedLionProduction & Wont let this moment pass us by – BenjiJackson .
Videos used in video, not included: Creative task complete, freelancer workspace, Designer working with computer.
Top Selling Item