Starting a TV show? This broadcast package will get you started with a full set of 15 comps that are easy to edit.
This is a broadcast package design with a variety of comps in FULL HD, 29.97fps.
Easily change the colors of all of the comps in one easy stepI The same can be done for the font color.
Comps included:
01 LOGO ID, 02 UP NEXT, 03 DAY PROMO, 04 TONIGHT PROMO – MULTIPLE SHOWS, 05 TODAY PROMO, 06 TRANSITION 1, 07 TRANSITION 2, 08 TRANSITION 3, 09 BUG 1, 10 BUG 2, 11 BUG 3, 12 BUG 4, 13 LOWER THIRD 1, 14 LOWER THIRD 2, 15 LOWER THIRD 3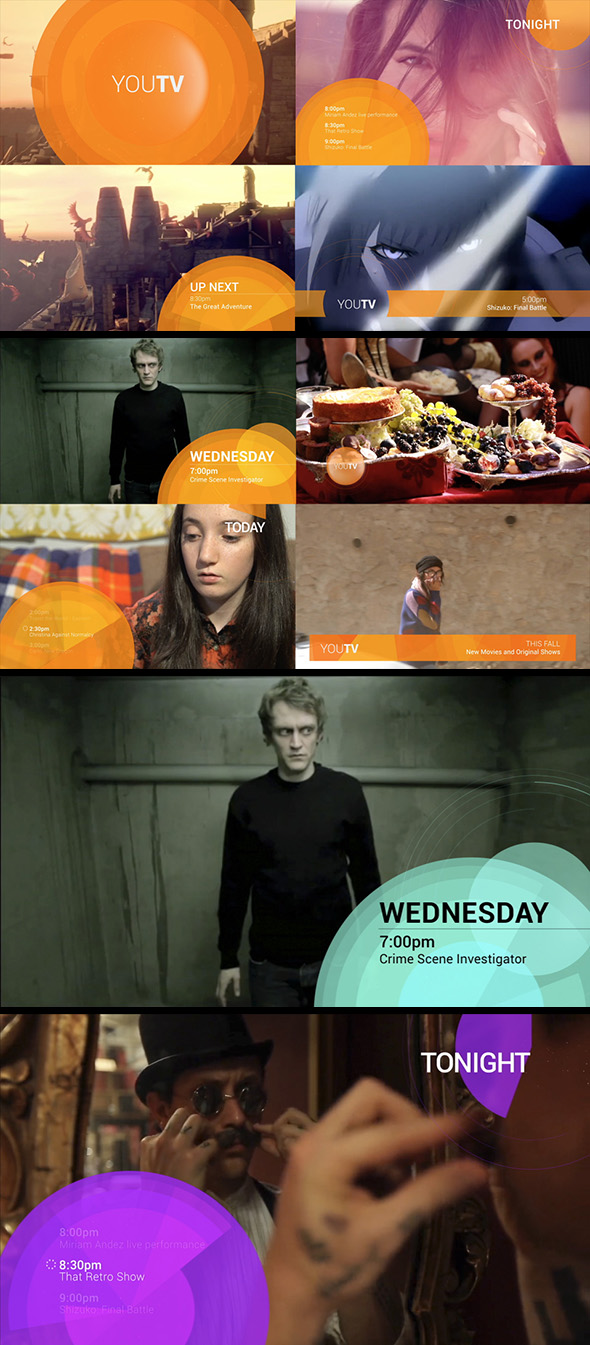 Font used is "ROBOTO" is free and can be found on Google Fonts: http://www.google.com/fonts#UsePlace:use/Collection:Roboto
Music is Ambient Vibes by friendlyhuman which can be purchased here: http://audiojungle.net/item/ambient-vibes/9094785?WT.ac=portfolio_item&WT.z_author=friendlyhuman
Footage shown in preview not included. Used freely under the creative commons license:
Festival Audiovisual CC – Primer Festival Audiovisual Creative Commons: https://vimeo.com/30161939 Rodolfo Medellín – Miriam Hernández – Spot: https://vimeo.com/109149044 Share House Productions – Soiled Dove: https://vimeo.com/109336445 Dark rider – CLAY-16: https://vimeo.com/109496100 Alexa Johnson – Hearing Without Listening: https://vimeo.com/104645593 Maestro Carlo – Maestro Carlo: https://vimeo.com/104507557 emerson e luna – SACHZ NA: https://vimeo.com/108853635 Nimesh Shrestha – Choice: https://vimeo.com/104577650