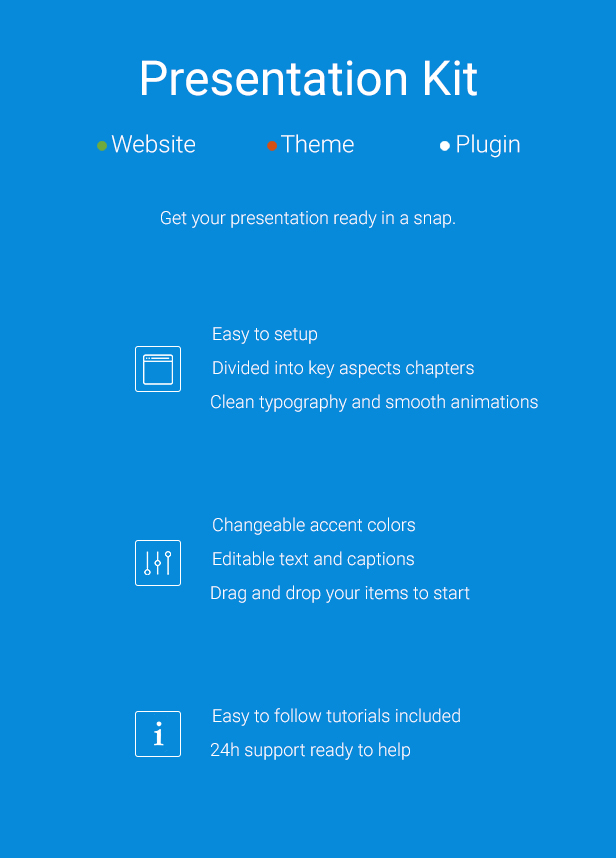 Website , Theme , Plugin Presentation kit.
Designed with keeping in mind needs of ThemeForest Authors we are bringing you this Theme Kit.
Get your Theme presentation ready in a snap and boost your sales by explaining key aspects of your product with nice clean typography and smooth animations.
Keeping in mind that time is money we designed this template to be highly customizeable without need of editing something on timeline or compositions. Just replace icons , screenshots, edit text and hit render !
Kit is easily customizeable with following parameters :
Intro color
3 accent colors
2 font colors
customizeable background gradient
4 main aspects icons
platform logo icon
4 plugin icons
social and support team icons (included and licensed)
editable texts and captions (tutorial included)
Also we prepared very easy to follow tutorials which you can find in archive with our presentation.
Font used in our Kit : Roboto by Google
Icons from FreePik
Screenshots used in preview – SEOWP Theme by LumbermanDesigns
Music taken from Here

Making presentation of your theme was never easier , try by yourself !

Thanks,
Flying with you to your dreams,
MagicCarpet Designs.

P.S. Your opinion and comments are very important for us , so please leave a review after your purchase , so we will have a feedback from you. Thanks !

Updates
25.07.2015 Updated project with After Effects file versions down to CS5.5