The project was created in Adobe After Effects CS6. It's 10 seconds long, FullHD (1920×1080px) with 25 frames per second. The project does not require any plugins, it is 100% after effects. It's perfect for presentations, promos and intros. Very easy to customize.The project is well organized,so you won't have any problems navigating pre-comps. Sound is not included in the project but can be purchased here:
https://audiojungle.net/item/atmo-stinger/2918427
The project contains one logo and one website adress/tagline placeholders so you can reveal any text or image.Just retype your text and replace the logo. The font used in the video preview is "BankGothic Lt Bt".It can be foun here:
https://www.dafontfree.net/freefonts-bankgothic-lt-bt-f61645.htm
Adjust your project easily with these controls: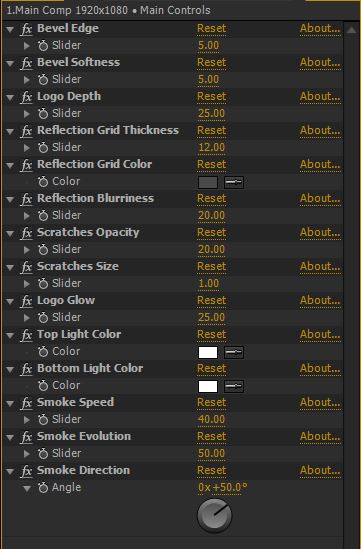 Hope you'll find the project useful. Good luck! And please don't forget to rate !