The explosive social icons pack contain 8 videos with alpha channel, each one 8 seconds long.
Icons presented in the package 1:
- Delicious - Digg - Facebook Like - Facebook - Flickr - GooglePlus - Linkedin - MySpace
These videos are ready for use in any program for non-linear editing or animation. Rotate them, resize them, etc.. The possibilities are endless.
If this pack was useful for you maybe this other will be too. Clips on the other pack:
- Pinterest – Soundcloud – StumbleUpon – Tumblr – Twitter – Vimeo – Yahoo – Youtube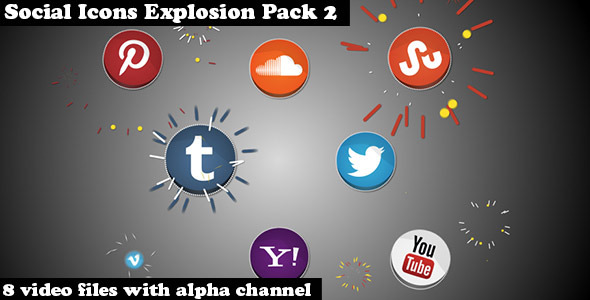 Need Help? If you need to contact me for support regarding this file, please use the message facility at the bottom of my profile page . I´ll be glad to help you.
Need some custom work done to this file? If you need any kind of customization done to this file, please send me a message at the bottom of my profile page. I´ll contact you as soon as possible.
Want to contact me for freelance work? Feel free to send me a message to talk about it. Just go to the bottom of my profile page . And youll find the message facility. Just click on the image below