| | | |
| --- | --- | --- |
| HD PREVIEW on   |      |    |
Product Description
This pack includes 25 seamlessly looped realistic snow video clips and 25 source project files compatible with After Effects CS6 (or above). Trapcode Particular 2 plug-in is required to open and edit these source files. Each project contains controls, so you can select one of these snow loops of a suitable behavior and easily change the number and size of snowflakes.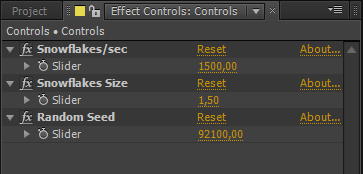 Each snow loop represents white snowflakes flying around over a black background. The duration of each clip is 20 sec. The snow rendered from five different camera angles, which allow you to fit this snow overlays in any winter video. But if you need to adjust a camera position, you can do it using source project files.
Projects/Clips are grouped by:
1. Camera angles (Frontal, High angle, Low angle, Look up, Look down)
2. Wind (Calm, Turbulent, Sidewind)
3. Velocity (Slow, Average, Fast)
You can use overlay clips in any video editor software like: After Effects, Premiere, Apple Motion, Final Cut, Avid and etc. Import a suitable snow overlay into your software, place it on top of your video and set its blending mode to "Screen".
Watch a Quick Tutorial on Using Snow Overlays in After Effects
Combining different clips together gives you more options. Using this approach you will easily get a heavy snowfall, snowstorm or real blizzard. You can mix several time offsetted copies of one clip to get more dense snow of this type or render unique clips of the same type using different "Random Seed" values.
Duration: 25×20 sec
Looped: Seamlessly
Frame rate: 30 FPS
Resolution: 1920×1080 (Full HD)
Format: QuickTime (H.264)
Buyer Reviews


Additional Info
The following footages used in the preview video are not included: Winter Joy, Winter, Nature in Winter, Car Traffic During The Winter 11
The music by AdamCaptured is not included, but you can purchase this track here.