Create Subtitles quickly inside After Effects.

WorkFlow: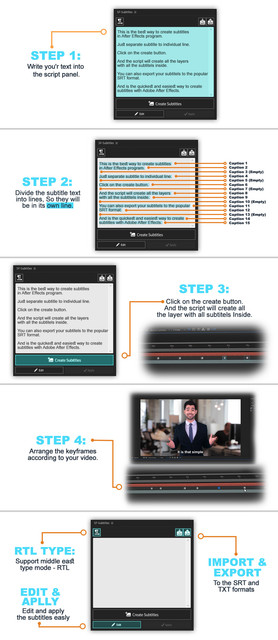 Options:
Create subtitles inside After Effects.
Edit & Apply easely all subtitles.
Export & import SRT file and more.
Supports Mac and Windows.
After Effects CC and higher.
Supports middal east type mode.
Update history:
Version 1.04 (01/06/2019):

   -Fixed a bug that was in typing mode in Middle East.
   -The stroke for the text is "Layer Style Stroke", 
    Now you can change the stroke settings or remove them all at once.

Version 1.03 (16/05/2019):

   -Now you can hold the ctrl key and press on "EDIT" button,
       and then the script will edit all the subtitles at once.
   -Captions will always line up.
   -Choose a font from After Effects Character Panel.

Version 1.02 (08/04/2019):

   -bug fix.
   -Match expressions to cc 2019.

Version 1.01 (01/04/2019):

   -improve script background..
   -works with after effects cc and higher.
   -works with macOS.
   -improved PDF.

Version 1.0 (16/03/2019):

   - was uploaded to Envato Market