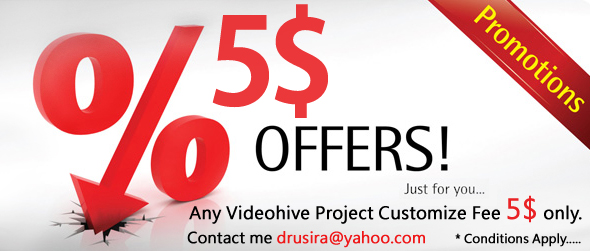 I hope & appreciate your comments…...........
I used After effect for create this one
- Full HD 1920×1080.
- HD PAL 1280×720 Composition Included.
- Every Video Displays Full HD.
- There have 15 Text Place Holders.
- There have 9 Video Displays.
- 2 project file included.
(Original AE project + Pre render AE project )
It because No need 3rd party plug ins require.
- Optical flares & 3D Stroke 2.0 pre rendered.
If you have this plugin you can modify as your wish.
( Original AE project included )
- Duration 45 sec.
- Sound not included. ( Preview Sound included).
I used Sound track video copilot Pro Scores track.
If you like my sound track drop me a mail.
- Full Detail Help file Included.


You can change this Creation's according to your Need.
You have to spend little time for it.
You can use Images or video's as your wish.
This is suitable for represent your need.
You will happy, That Convenience you got After use this Creations. I confirm that you can use this for any professional work. Please rate if you like it
If you need help customizing the project drop me an Email.
ENJOY…
Cryvfx
If you are not familiar with After Effects or any other Video/Graphic editing software or you are previously purchased Template via any other marketplace. I can provide customization services.
After Effects Template customization requirements
Item preview link
Assets (Audio,Video, Logo, Pictures, Text etc..) packed with winzip or winrar
Delivery format for video must be Quick Time Mp4/H264 for audio Wav or Mp3 ~256kbp/s
Logos or Pictures must be in PNG , AI, TIFF or PSD format.
Contact email adress or Skype…drusira@yahoo.com