REAL: Noise Pack
This pack includes 15 TV noise and static clips. We took to our studio blacked it out. Grabbed 7 TV sets old Sony CRT trinitrons, panny sets, JVC sets and even some new plasma and LCD HD tvs. We cleaned and prepared them with anti-glare spray – then we captured noise and static using a CineAlta PMW F3 camera.
We then took the clips in to post, corrected distortion and enhanced the clips, making sure to use the original source as reference. What we got where clean crisp shots that look organic and glow beautifully just like the real source.
We captured everything from VCR noise, air static, bad signals, bad digital signal from antennas and cable boxes, electro-induced noise and much more.
Excellent pack for motion graphics artists, editors and compositors. Grab that realistic organic look with this pack!
Clips come in 2-10sec. 1280×720p Quicktime jpeg. Because noise changes each frame it's hard to compress these types of clips w/ out generating large files. that's why we chose 720p jpeg files to keep the size under a gigi.
720p can still be up-scaled to 1080p just fine, if need be. Let me know if you have any further questions.
Enjoy.
Update!
Hey guys, I just noticed that the preview video looks pretty bad. I want to remind people to please excuse the horrible compression on the preview video. It's very difficult to compress noise clips because every frame is different than the last so there is too much data.
However please note that the video clips that come in the pack are sharp and clean with lots of detail. The preview does not do the pack justice. Just wanted to clarify this
Thank you
-Cheers!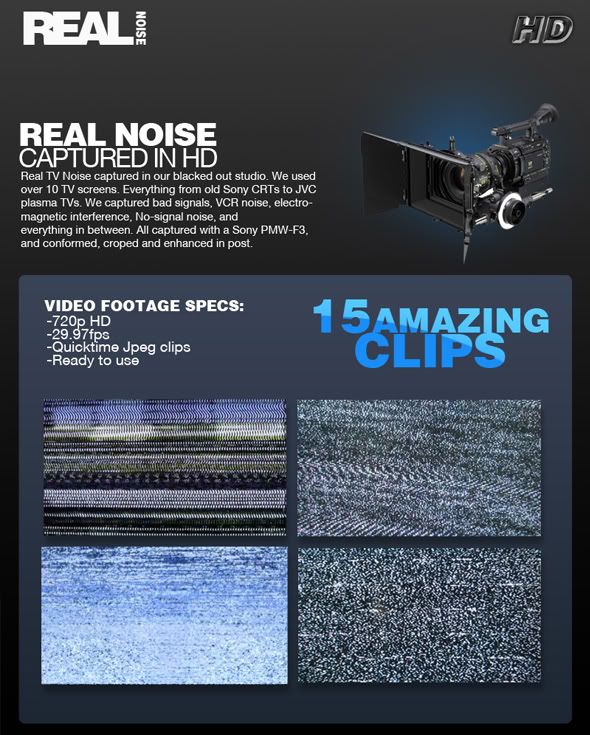 Checkout my videohive profile for some free AE CS4 project files!