Features: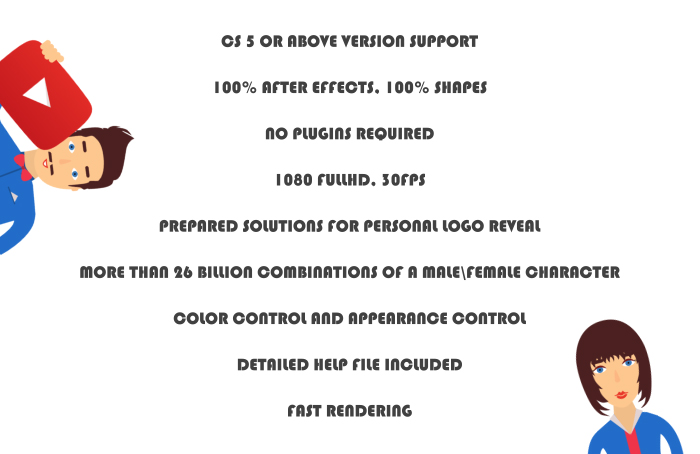 We are glad to give you updates for every holiday. You can always get a new themes for logo reveal. And also we add animated elements for your characters of different themes. This project with every update is getting bigger! Thanks for your support.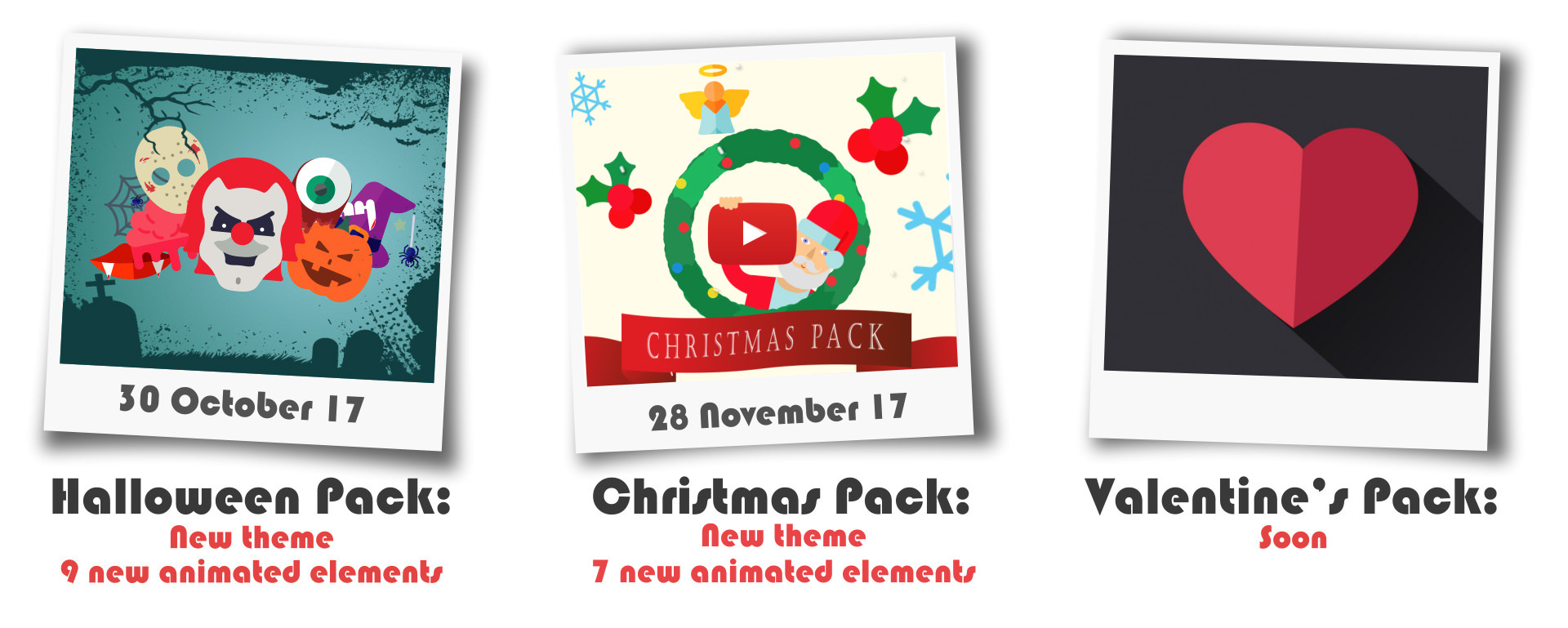 Description:
The project includes a male and a female character. There are full unique appearance settings for each of them:
11 beard styles (for male), 11 types of short hairstyles, 11 types of long-haired hairstyles, 3 types of noses, 8 types of mustaches (for male), 6 types of eyebrows, 5 types of eyes, 5 types of ears, 4 types of glasses, 7 headdresses, 7 types of short-sleeved costumes, 7 types of long-sleeved costumes
A little bit of math. Let's count the number of combinations for each character.
As for male: 11×11 x 11×3 x 8×6 x 5×5 x 4×4 x 7×7 x 7 = 26 296 300 800
As for female: 11×11 x 3×6 x 5×5 x 4×4 x 7×7 x 7 = 298 821 600
Total number of characters: 26 595 122 400
It's just unbeliev… wait wait
It includes individual color controller for every element of appearance, which one helps you to create the best color solution easily and quickly.
You can keep youtube logo unchanged or change it to your own, also you can change the background and substrate color using controller.
It's hard to believe, but you can easily add any of your materials for unique character appearance additions.
There is more to come!
The project also has 7 prepared options of style design with prepared unique backgrounds. You can also remove background leaving alpha channel.
...able!
Audio:
The audio file is not included because the project is too personal.
Audio in preview:
We want to make our project huge and universal. Rate 5 stars and write comments below to make it better. Wait for the update!
Updates:
v1.1. Added 2 new themes to the project
v1.2. Added 1 new Halloween theme and added new animated item pack
v1.3. Added 1 new Chrismas theme and added new animated item pack