Clips Details
Format: Full HD 1920×1080 2K version available here !
FPS: 24
Original Frame Format: 3 Raw exposures per frame blended into HDR
Video Codec: Photo Jpeg
Location: Bangkok Thailand
Shooting Date: October 2012
Source: Canon 5D Mark II
Pack of 2 Sunsets in HDR over Bangkok Skyline for a total of 19 seconds of pure pleasure for your eyes! First clip is in my Top 3 best Timelapses so far, really crisp quality in Full Screen,smooth and no flickering at all. I hope you will like it too =)
Curious to see how sharp is the resolution of this clip?
Click on the photo below to see a similar shot in HD on my Flickr!!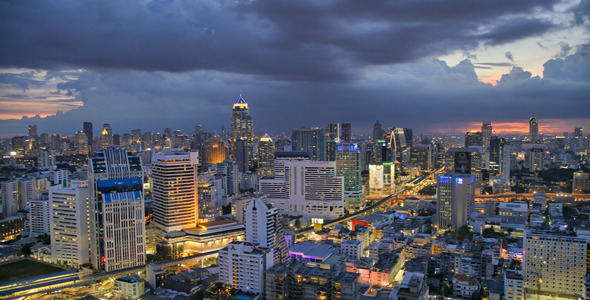 Have a look at these similar clips from my Portfolio!
Ideal for
asia building business color chill bangkok bundle city condo corporate colors colorful downtown day district dusk exterior east evening exposure fast financial finance feelings fun holiday hotel high HD HDR haze hazy happyness illuminated lounge luxury light landmark long lifestyle money night new outdoor pack panorama raw reflection south siam sunset speed skyscraper skyline sky stylish streaks traffic thailand time timelapse tourism transportation urban vacation
A big THANK YOU if you buy this clip! Please rate it even if you don't like it!