Hello everyone. "LayerStyle Series – Jewels" is a shiny,fashion style opening with place for your titles or logo!High-detailed intro in FullHD!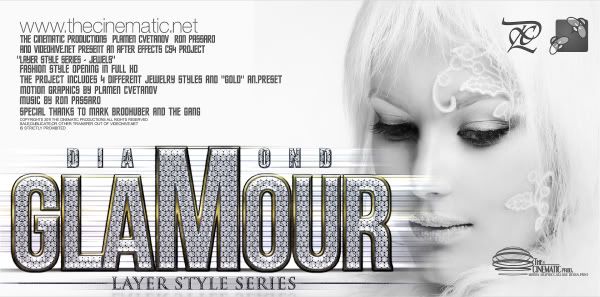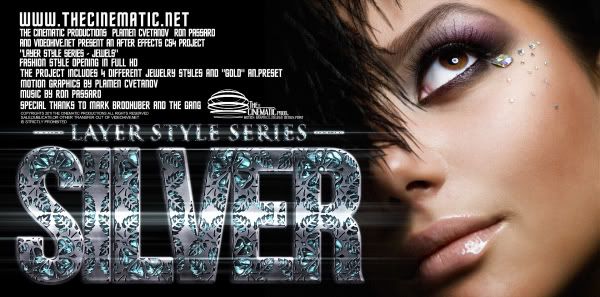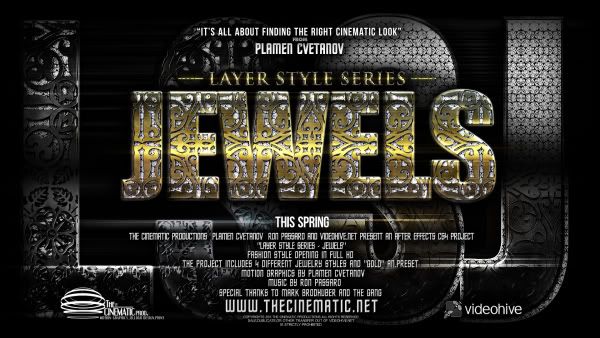 4 Different Styles:
Ornamented Gold
Ornamented Silver
Diamonds&Gold
Gold-3D
The project files include:Prerendered Trailer project,Not-Prerendered Trailer project and 1 bonus "Gold" animation preset ready to be instaled and used for your future Ae titles or logos.Watch the bonus video tutorial and see how to instal and use it!
This project has pre-rendereded:VideoCopilot-Optical Flares and Trapcode Particular 2.5 layers. So,you don't need these plug ins. However I have included another project like a separate file that uses the VideoCopilot-Optical Flares and Trapcode Particular 2.5 layers just in case you have these plug ins and want to change something!
Font Links:
Bebas-Neue
Big Mummy
The download zip. file includes:
Prerendered project folder
Not-prerendered project folder
Two layer style Animation Presets
Video Tutorials
Wallpapers
Special thanks to R.Passaro a.k. takingaction from AudioJungle for the amazing music he did for this project.The music track is available for purchase on AudioJungle:
The piano music used for the rest of the preview,is available on audiojungle as well:
http://audiojungle.net/item/piano-love-story/147991
HD Preview:
Cycore Fx must be instaled.!
Wallpapers: Wallpaper1 Wallpaper2 Wallpaper3 Wallpaper4
The images used in the posters have been purchased from Fotolia.com and are not included in the download source.