Jumbotron is a simple After Effects presentation template. Just replace the jumbotron screens with your own content, video, logos, photos, whatever and render!
One fifteen second animation is included. The animation goes between the four main screens with about 3 seconds per screen. This single animation can be edited in any number of ways to create a longer video piece.
The project is very well organized and very easy to edit, simply drop you content into the 'Screens' comps and you're done!
Help:
A video tutorial is included to help you edit the project.
Features:
• 100% After Effects
• Well Organized Project
• Easy to Edit
• :15 Long
• No Plugins Required
• Renders Fast
• Multiple Render Resolutions:
   1920×1080 @ 29.97fps
   1280×720 @ 29.97fps
   720×486 @ 29.97fps
What's Included:
• After Effects File
• Three render passes, Beauty, Screens, and Stadium Lights
• Video Turorial
Screenshots: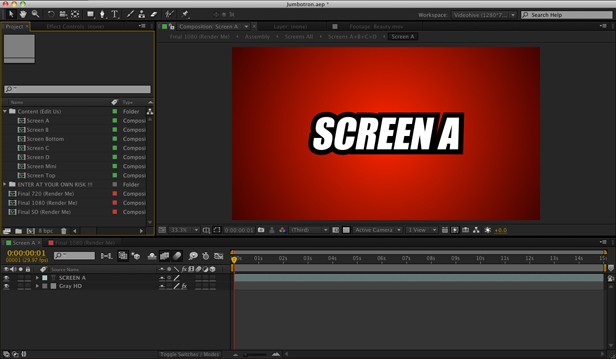 If you LIKE it, RATE it! (And if you don't like it, tell me why so I can make it better.)
If you have any questions or comments about Jumbotron please send me a message through my profile page.