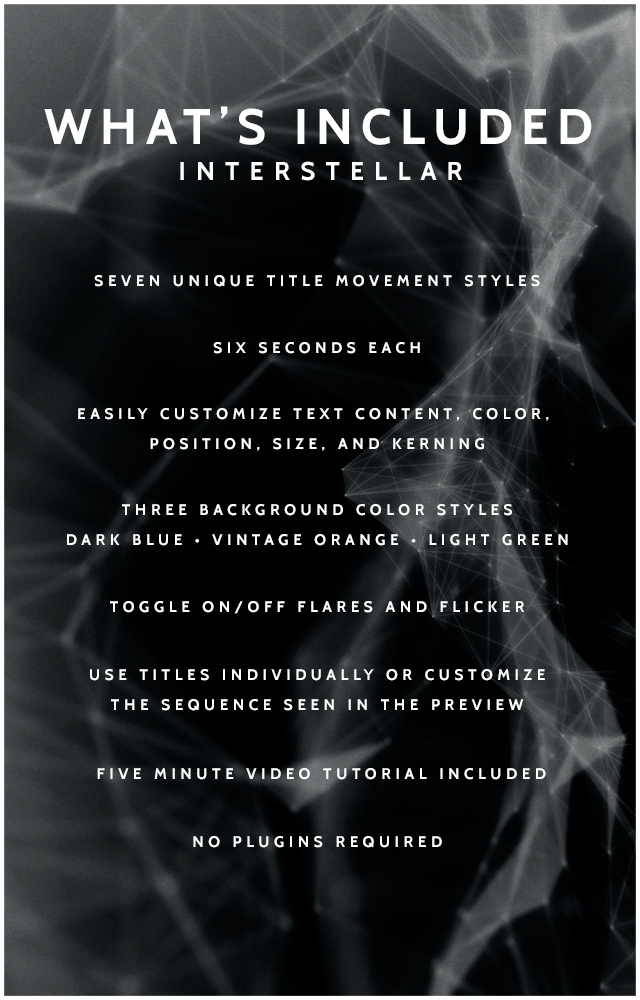 What's Included?
Seven Unique 6-Second Customizable Titles
A 35-second Customizable Title Sequence (seen in the beginning of the preview)
Two 6-Second Abstract Background footage shots (for intercutting)
What's Customizable?
Each title has three different colored backgrounds: Dark Blue, Light Green, and Vintage Orange
Flare and background flicker can be toggled on/off
Text customization includes content, color, scale, position, and kerning
(note: the background color you choose won't affect the text color you choose)
How it works:
Open one of seven title comps. Select which background color you want, select flares to on/off, and select flicker to on/off. Next, highlight the existing title and type away. Finally, customize the title's color, scale, position, and kerning, if desired. You're done! It's that quick!
Key Features:
1080p 23.976 fps
Ridiculously simple customization
5 minute video tutorial included
No plugins required
Want to see the three scene styles in action with some example trailer phrases? Of course you do!
Watch Light Green Interstellar Titles in HD
Watch Vintage Orange Interstellar Titles in HD
Watch Dark Blue Interstellar Titles in HD
Remember – you can export each 6 second title individually – you're not limited to the title sequence. You can intercut these titles into your own live action trailer or create a title sequence similar to what you saw in the preview.
Make sure to rate and review this product if you have a chance! Thanks!
The audio tracks in the preview are not included, but you can find them here:
Purchase Intense Hybrid Trailer
Purchase Ambient Space
A link to the free font used in the project is included with your download.
If you have any questions about the product, feel free to leave a comment or message me directly! Please rate and review if you enjoy Interstellar! Thanks!