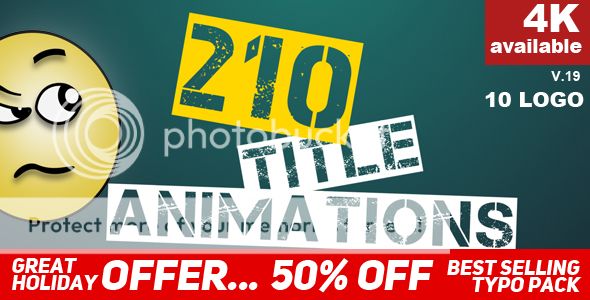 'Inspired Media Opener' simple and amazing controllable project for making your own Video or Image presentation .You can use images instead of video.
Very simple and well organize fully controllable project.
You can easily change all the elements in this project.
eg: colors, shadow , texture, light leaks, media tone ect.. in just one simple step. Changing text , drop your media, audio and hit render.
You don't need any Advance knowledge of After Effects in order to use this project. Even if you never worked with the After Effects you can watch the video tutorial and complete the job.
Perfect For:
photo/video slide show . video presentation, Wedding intro . Movie or tv show opener . Special events . any media opener . demo reel . video album . travel video . corporate intro . quick opener . home made slideshow
1920×1080 HD
Fully controllable
No plugins required
Includes video tutorial
After Effects CS5 or higher
Image and audio not included
Font links are inside the project
Download Audio Audio