Balloons

4 versions of bright balloons video footage
for birthday, celebration, anniversary, holiday, party, kids or baby program, festival, promo, special event, happy moments, vacation gallery, photo album, wedding, love story, family feast, children's slideshow! This footage is also perfect for Valentine Day, announcements, engagements, invitations and other special events!
Video preview shows balloons in 4 color versions with alpha channel (you can just drop them above your video) and also with depth channel (shown as greyscale).
A depth channel (or Z depth or Z buffer channel) provides 3D information about an image. It represents the distance of objects from the camera.
You can use it to add depth blur or fog effect ( to make balloons look more diffuse as they get more distant along the z-axis).

Color with alpha + Depth channel
HD1080 (1920×1080)
Quicktime PNG+Alpha
30fps

Color versions:
Purple + Yellow Ballons
Red + Blue Ballons
Yellow + Blue + Pink Ballons
White + Blue + Red Ballons
Balloon occasions: anniversary balloons, holiday balloons, birthday balloons, New Baby balloons, wedding balloons, Mother's Day balloons, Father's Day balloons, Easter balloons!
Perfect for a graduation party, a Hawaiian luau, a baby shower for family and friends, a Valentine's Day party, a birthday party, wedding, school event, and other festive gatherings!
This funny, happy, cheerful, joyful & playful footage will add a lot of interest to your video!
Capture your happy moments and adorn them with animated Balloons!
Customers reviews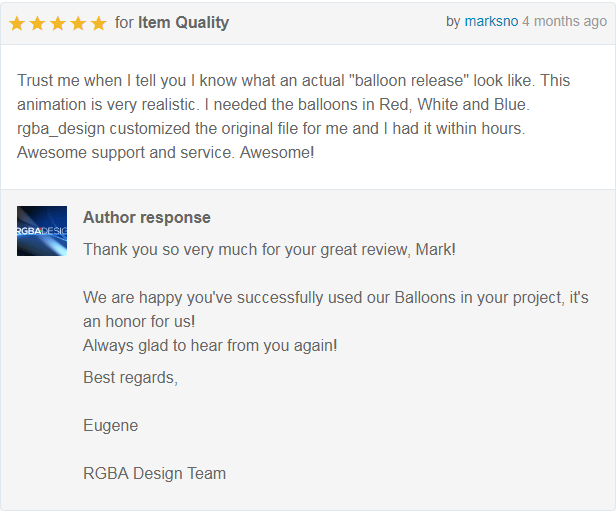 License agreements
Standard Licenses
In the case you need assistance with choosing license, please feel free to contact us!
Stay with us!
Just follow us and be the first to know about our new projects –
Click to Follow!
Your feedback is welcome!

More After Effects templates & projects from RGBA Design