Display your calender events effectively, you can use this as an ordinary video display…

Description:

-pure after effects…
-no plugins required(optical flares prerendered)...
-video tutorial included…
-color controller provided…
-system default font used…
-audio available at here...
-1080p, 720p versions available…

Features:

-19 Video holders….
-19 Event name holders….
-19 Date holders…
-19 Time holders…

Special Thanks to:

VIDEO
-concert-crowd-slow-motion-3
-nail-polish
-club-dj
-guitarists-11
-business-planning
-people-walking-through-medieval-tunnel
-burning-candles-with-bokeh-effect
-doing-homework
-ears-of-wheat-4
-motocross-motorcycle-parts
-people-on-the-street-94
-projection
-bridge-with-love-padlocks
-motorcyclist-before-start-3pack
-playing-billiards
-man-tying-shoelaces
-photographer-and-flowers
-summer-cuddlers
-hands-on-cereal-field

AUDIO
-Inspire...

SAMPLE IMAGE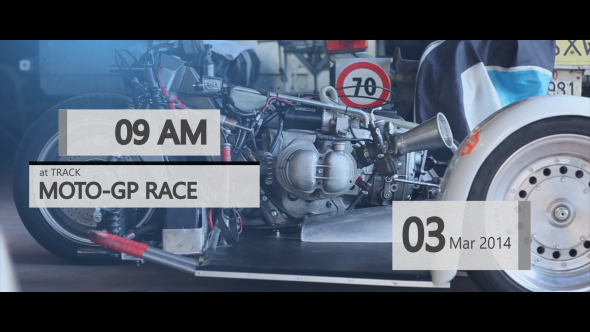 SUPPORT
Are you new to After Effects!!!...I am here to customize and available for freelance works…

Don't forget to Rate!!..