Hi there! This is my new project: an Hi-tech Touch interface project! Use it to show your portfolio in a hi-tech way!
<strong>Watch the <a href="http://vimeo.com/27625601" rel="nofollow">HD video on vimeo</a>!!</strong>
This project has a modular structure : there are two modules of 6 placeholders that you can duplicate to add all photos/videos needed. The native project template comes with 12 placeholders for your photos/video. But There is also a version with 24 palceholders (bonus version!). Just import your photos, type your texts and you'll be ready to render! In the help file I explain how to add more photos.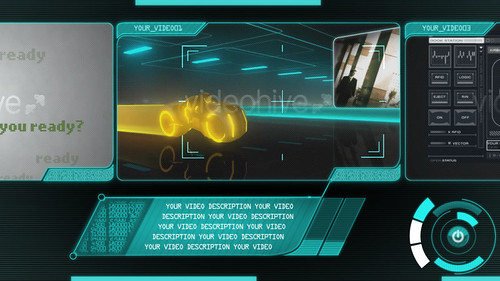 Main features:
HD native resolution (1280×720). 25 fps.
CS4 project. CS5 compatible.
1 min 30 sec length of native version (with 12 placeholders).
2 min 40 sec length of bonus version (with 24 placeholders).
No plugins required.
Easy to customize.
Step-by-step instructions included (pdf file) to change texts, video/photo, colors, add photo.
Free font used (txt with link).
Music and effects used in the preview are not included.
Enjoy!
Please rate this project if you like it
, thank you!
Credits/Thanks Music track used in the preview is our "Digital View" song.
Sound Effects are made from Pep It Up and they're available here : "Electronic sound Pack".
Please note that inside his "Electronic sound Pack" you'll find also a track with all sound effects syncronized for this template, so you won't have to arrange single effects inside the template (version with 12 placeholders).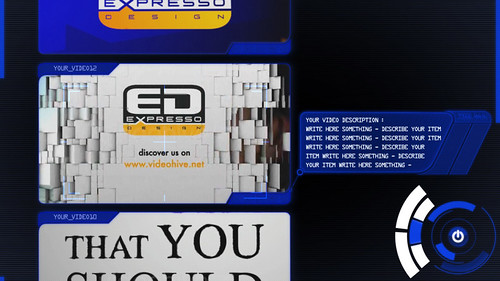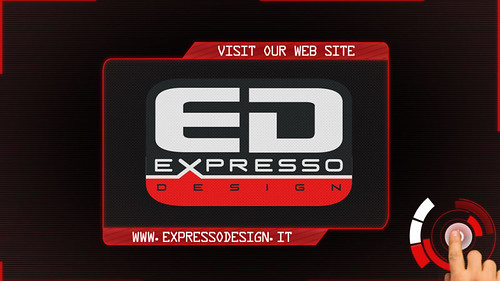 If you like this project, check out these other hi-tech items:
Check out my last typographic item: