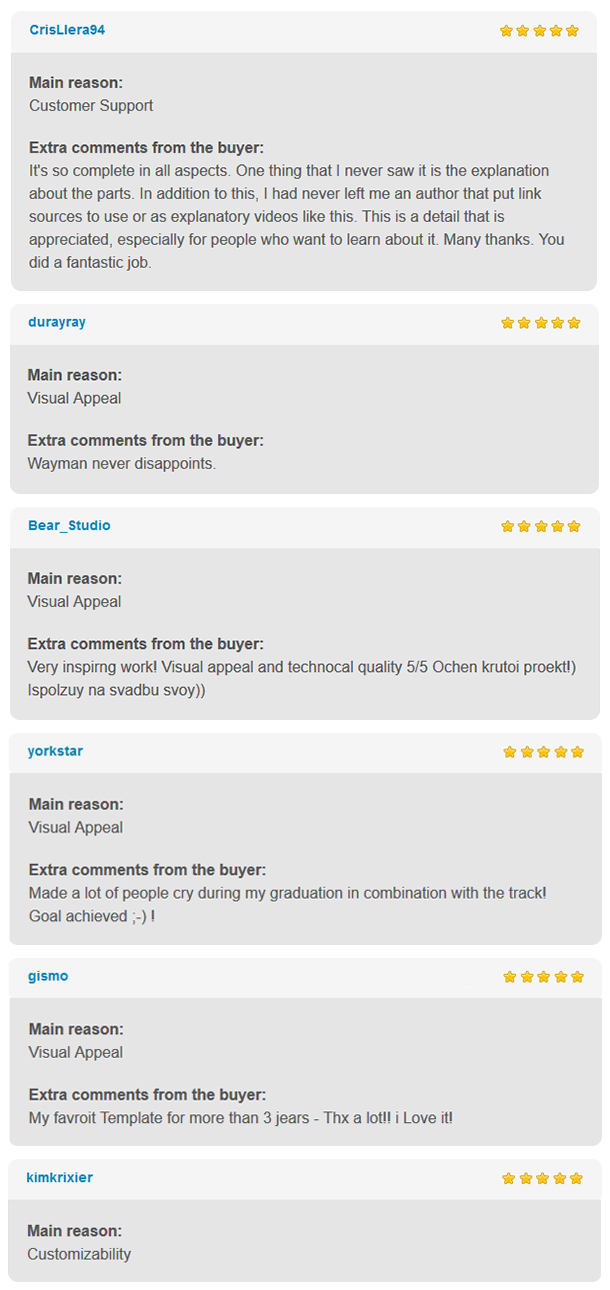 Description
Hello! Are you looking for a slideshow? Then let me present to you my new project "Dreamers". I'm sure this project will be good for wedding slideshow, or maybe for sport slideshow. Anyway, regardless of what your event is, just add your video or photo, change the text, add beautiful music for best atmosphere and your video photo album is ready! In the project, you can add an unlimited number of slides. As always, the item includes video tutorials that even a novice will understand how to set up the project. I hope you will like it! And don't forget to rate, or to leave feedback. Enjoy!
Compatible with CS5, CS5.5, CS6, CC
3:20 min lenght
No need plug-ins
Opportunity to add an unlimited number of placeholders
Beautiful cinematic atmosphere
Video Tutorials
Basic Guide
How to add more slides
How to display image longer
Music
Similar project
Also you may like these beautiful opening titles which can decorate your slideshow.
Credit
All photos and video that I have used in the preview are not included in the project. Thanks to the authors for providing the Creative Commons License: 1, 2, 3, 4, 5, 6, 7, 8, 9, 10, 11, 12, 13, 14, 15, 16, 17, 18, 19, 20, 21, 22, 23, 24, 25, 26, 27, 28, 29, 30, 31, 32, 33, 34, 35, 36, 37, 38.
Fonts
The font that was used in the project you can download from here – https://bboxtype.com/typefaces/FiraSans/#!layout=specimen
Screenshots
Yes of course, this project can be perfect as a slideshow for students, a slideshow for colleges, an university slideshow, or maybe for a school slideshow.
P.S: This project was made with inspiration from FIFA World Cup in Brazil (Copa Mundial de Futbol)! Since childhood, I loved to play football. I was a goalkeeper in a team from my city, and it was a great time!