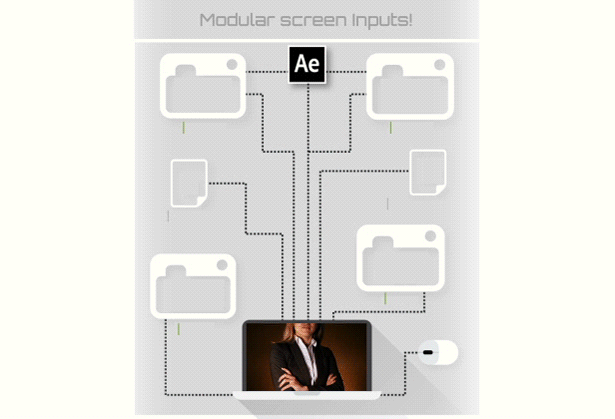 Short modern and dynamic promo Intro for businesses! A modular "hi-tech" touch screen HUD environment, with digital displays being selected by a succesful Mrs business-woman! Suits many generic corporate enterprises (design companies, educational colleges, advertising and marketing companies etc) to promote products or sevices!


Modular project structure: Drag and drop your logo / image / video / illustration / dingbat / or edit text in the 10 content placeholders
Two footage versions: (Female With / Without waiving hair)
Reflections over contents can be switched off separately
Light leaks, blurs & glitches can be switch off, for a "cleaner" version!
Footage at the end can lighten / darken so your logo will pop up better!
4k UltraHD (3840×2160) & FullHD (1920×1080) compositions ready to render!
Software needed to open & customize video: After Effects CS5 and newer. No plug-ins required (You can even render with the trial version of After Effects!)
Video tutorial with voice and short written documentation are included
Awesome musics used in preview video are not included, please purchase separately:
Preview 1 track (starts 00:00): Cinematic Orchestral Studio Opener (Full Opener | 0:18'')
Preview 2 track (starts 00:19): Party Action Audio Logo (filter intro.wav | 0:16'')
(Both musics fits well with both projects' versions)
Image contents displayed in the 1nd preview video are for demo purpose and are
not
included.
Feel free to contact me through my
profile page
for questions &
help
. Thank you!-
Steve314

:::
Similar visual
, business modular AE project :::
More projects for your Company! Check the CORPORATE PROMOS
collection
>>
::: ::: :