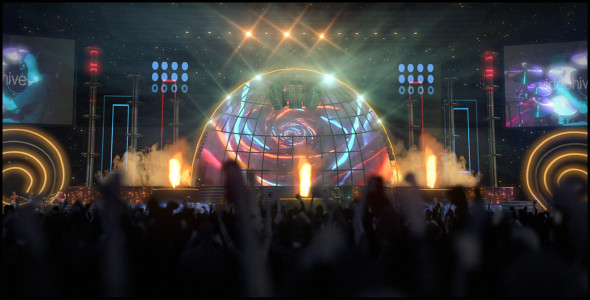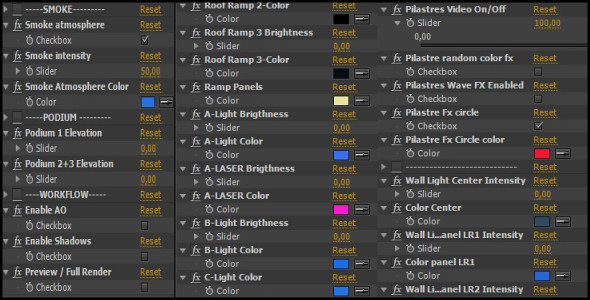 Concert Stage

Element 3D is Required
Create your own light show and put who you want on this Stage.
All video can be replaced very quickly by Drag & Drop, the project is well organized.
All lights was tracked on the stage and are ready to use with Optical Flare from Video Copilot.
You can take full control for color and position. You can manage too all elements like smoke and Podium.
The template is completly modular with unlimited placeholders and can be used for video clip,
presentation, birthday or anything you want.

Features:
Unlimited placeholders
Full HD (1920×1080)
Control setting for roof light, lazer & stage light (Intensity, colors & position)
Control setting  for  Elements (Smoke (intensity+color) & Podium)
Control setting for Automatic Light (speed, color & position)
Control setting for xx Visual Effects precomposed & ready to be used by checkbox and cursor)
Position Controler  for Dancers, singers ,& Musicians
1Central Screeners +  2 screeners splitted inside (1 medium and 1 little)
2 Big TV
4 panels splitted for display in full screen or used in individual

Package Content:
1 Video for Opener
7 FX Pre rendered
1 Stage 3D Model splitted to reduce the polygons number
1 Sound Wall 3D Model
1 Micro 3D Model
1 Marshall Amplification 3D Model
5 Audio Sample (Storm, 2 Applause, 2 Whoosh)
1 Crowds Footage Looped
1 Smoke Atmosphere  footage
1 Fumigene footage
1 Fire Footage
1 Dust footage
1 Video tutorial
Caution  : The Musics, the peoples on the stage and the man playing at drums are not included.
Sources