Here is a modern and elegant design of 2d logo. This After Effects Template is suitable for any company, business, commercial project, or product or even for a corporation. For example, it's perfectly fits for your intro, opener, logo reveal or for any of your ideas. It is simple, nice, and stylish. There are many modifications of this logo, there are 5 different logos, long and short version, you can create any variation you want using minimum time to design it on your own needs. Simple add your logo, tagline, change circles colors or their design, change background, you can make it classical white, and black or colorful.You can choose the magnetic style and render everything in a two minute, minimal work for you to do! I hope you will like it! And don't forget to rate!
Project Details:
5 Short and 5 Long versions design of circle logo;
Full HD 1920×1080p;
No Plug-ins Required;
Sound FX Included;
Drag and Drop Logo customisation;
Fast render times;
Easy to customise;
Easy to change the colours;
Editable with After Effects CS5, and above;
Help video tutorial;
Duration: 18 seconds long versions, 10 seconds short versions;
The Fonts are not included, used GillSansLightC;
Music from the previews is not included;
Music for this project was written by gasta. You can buy it here!

Customisation: Change all with a single click
I spent a lot of time to prepped this project for you and do it this templates very flex. So I hope you will like that, enjoy.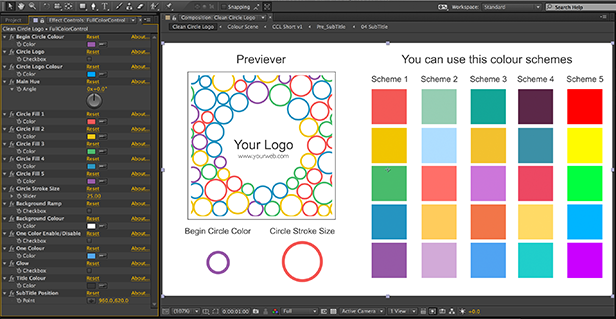 A little part of result, what you can have in the end.