Broadcast Design News Package Mikka III (29.97 and 25 fps)
Complete News Identity! Available at 29.97 and 25 fps! Designed at Full HD 1920×1080px, but also I prepared different composition where you can render your projects at HD 1280×720, PAL Widescreen and NTSC Widescreen! For anyone – From anywhere!
Features
Title Sequences, Virtual Studios and Graphics:
News & News with headlines
Sport
Weather
Breaking News
Morning Program
Full HD, HD, NTSC Widescreen at 29.97fps
Full HD, HD, Pal Widescreen at 25fps
Easy Customization
Video Help File Included
Free font Link
Music Links (music not included)
News Music Composed by: Okan Akdeniz – News Reality
Sport Music: Sport Moving
Weather Music: Flute Pan Logo
Breaking News Music: Okan Akdeniz – Mind Explosion
Good Morning Music: Sending You Logo
Image Footages used for preview purposes:
Industrial Building, Abstract U.S. Dollar Coins & Bills,Solar panels and wind turbine, Riots, Tank Shoot, Ruined Building, Business Man, Businessman on the phone, Businesswoman, Macau City, Ball, Detailed view of a sprinter…, Football Player, Male boxer, Muscular young afroamerican…., Soccer player, Young man skiing, weather 1, weather 2, weather 3, weather 4, weather 5, weather 6, Aerobic class, Eyes, Let's wake up with…, Light Morning, Morning cofee, Morning Grass, United Nations in Geneva, Militaty Operation, Oposite players tackling footballer.
And please if you like this template – please rate it at download section. Cheers!

Social Media Pack
Broacast Design News Package Mikka II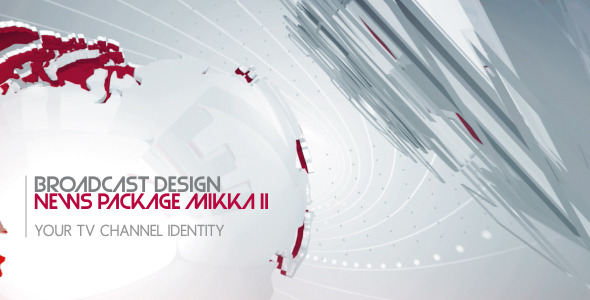 Broadcast Design Evening News