Award Show graphic pack: is a cool simple and elegant template made specially for anyone who wants a high quality award video pack with professional style and attractive mode. all work was done in after effects, no plugins required, (Trapcode particulare are pre-rendered, also original file with editable plugin included), this template contain all the necessary modular elements With infinitely looping to create your own awards show video , a useful expression control will help you to change all colors easily with one click, It's perfect for any type of work.…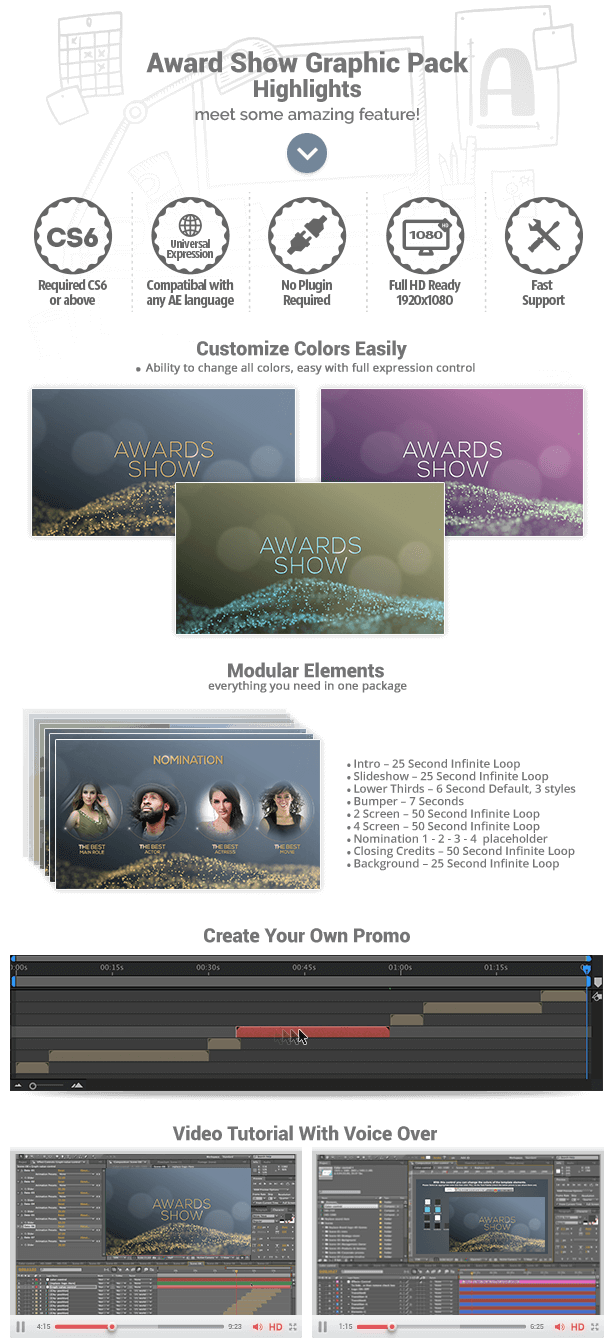 Special Feature:
Ability to change, colors with full expression control easy for all elements
Ability to build your own promo
Looping Modular Elements
in out transition (easily to adjust)
No plugin required.
Trapcode Particular plugin are not required in order to edit Awards Show
a separate file with editable Trapcode Particular are included
Ability to build your own promo
Well organizsed template
Helpful documentation HTML + Detailed Video Tutorials with voice over
Resolution available: Full HD 1080
AE Version: Adobe After effects CS6 or Higher.
Modular Elements
Intro – 25 Second Infinite Loop
Slideshow – 25 Second Infinite Loop
Lower Thirds – 6 Second Default, 3 styles
Bumper – 7 Seconds
2 Screen – 50 Second Infinite Loop
4 Screen – 50 Second Infinite Loop
Nomination 1 picture – 7 Seconds (left & right style)
Nomination 2 picture – 7 Seconds
Nomination 3 picture – 7 Seconds
Nomination 4 picture – 7 Seconds
Closing Credits – 50 Second Infinite Loop
Background – 25 Second Infinite Loop
Video Tutorial Library
With a voiceover video tutorial, installation and customising elements couldn't be easier. Follow along at your own pace, pause, rewind and play back until you get it just right. Videos are kept small and short to cover different elements individually. Chose what you need help with, sit back and work through it step by step with our voice-over tutorials.
Font :
not included, but can be downloaded for free, link included in the help file.
Music :
Not included, You can purchase it from audiojungle.net : here.
Customization :
If you don't know about using Adobe After effects or you want to customize this template or you buy this template and you need help, please contact me using contact form in my user page.
Support
Full technical support included in item price! We provide super-fast support for queries relating to the use of this pack.
Credit:
Eugene Wineblat
1-Leopold Terence
2-Leopold Terence
3-Leopold Terence
Alfredo Gayou
Ricardo Mantilla
Carlos Vieira
Alexander Eberle
steven alan
unsplash
Please support my work by rate my file after purchase





Thanks
Stay up to date: