Awesome Unique 50 FFX Smart and Light Text Presets.WHICH edit your video beyond recognition. 50 presets enough to change any of your video in any style. Tutorial on how to use attached !!!!!!!   Made on CS4 but you can play with them on what ever version above this!
Latest Updates…
• Added – 03/09/15 | New free 10 Pre-Key Presets
• Added – 03/09/15 | Online Preview
AWESOME 50 FFX Smart and Light Text Presets.   
Project & Presets Pack for After Effects Cs4-Cs6 And CC Ready
Featuring :
Preview all presets – include? / Yes – include
Customization Flexibility
Universal Expressions / Pre-Key Motion
Extensive Tutorial Included – How To Customise-How to make the animation in reverse/How Install the presets
No Pluggins ,No Pre-Renders
Fast Render Time
Support and Free Update
Music Used For Preview : "Larger Than Life" By PinkZebra
New Mega Epic pack with 600+ Presets Available Now !!!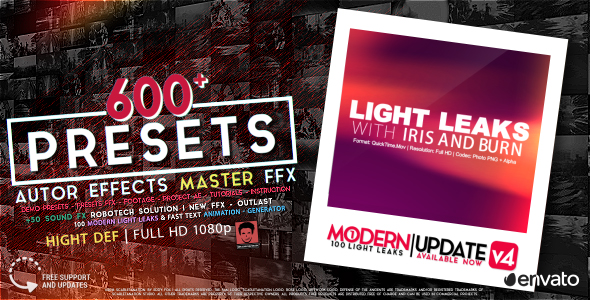 Also other FFX Presets
Some customer reviews…