WHAT IS INSIDE






Buyer Reviews.





200 Ready made Massive Different Style Title Animation project Pack with 10 LOGO reveals. Ready to use.
When you work with this title pack , you dont need any plugins and expressions or script.
Really simple and traditional animation technique.
Each title have IN / OUT animation. Title animation time 6 – 8 sec. Two projects included. 4K and HD. 210 separate projects
Very simple to edit text and color. Just drag in to your composition and hit render. You can mix with the others and use as a Kinetic Typography. Preview text edit version included.
You don't need any Advance knowledge of After Effects in order to use this project. Even if you never worked with the After Effects you can watch the video tutorial and complete the job.
Now you can work with real 3D titles + 10 LOGO reveals
SEVEN Video Tutorials included
1. VIDEO_TUTORIAL – 1
2. VIDEO_TUTORIAL – 2 – Adding background and shadow
3. VIDEO_TUTORIAL – 3 – Change text outline color and some elements color
4. VIDEO_TUTORIAL – 4 – Create Multiple Titles
5. VIDEO_TUTORIAL – 5 – Change Character Expression
6. VIDEO_TUTORIAL – 6 – Render QuickTime Alpha
7. VIDEO_TUTORIAL – 7 – Insert Your Media
200 different style title animation projects + REAL 3D TITELS + Character Facial Expressions + 10 LOGO reveals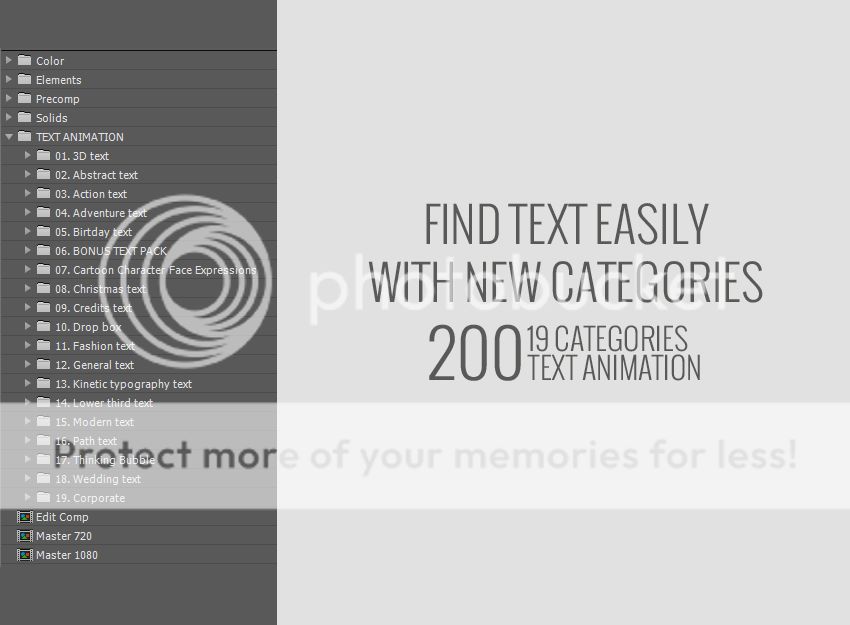 Perfect For:
Title animation, Movie text, Text opener, Kinetic typography, Lower third, Open/close credits, web, Business, Corporate, Office, Special Events, Presentation, Weddings, Birthday, Logo Reveals
1920×1080 HD
No plugins required
Includes video tutorial
After Effects CS5 or higher
Change text and color easily
Fast Rendering
Fonts links are inside the project
Download Audio
OLD AUDIO Audio
NEW AUDIO Audio
GET THE IDEA – Different Look With Different Medias