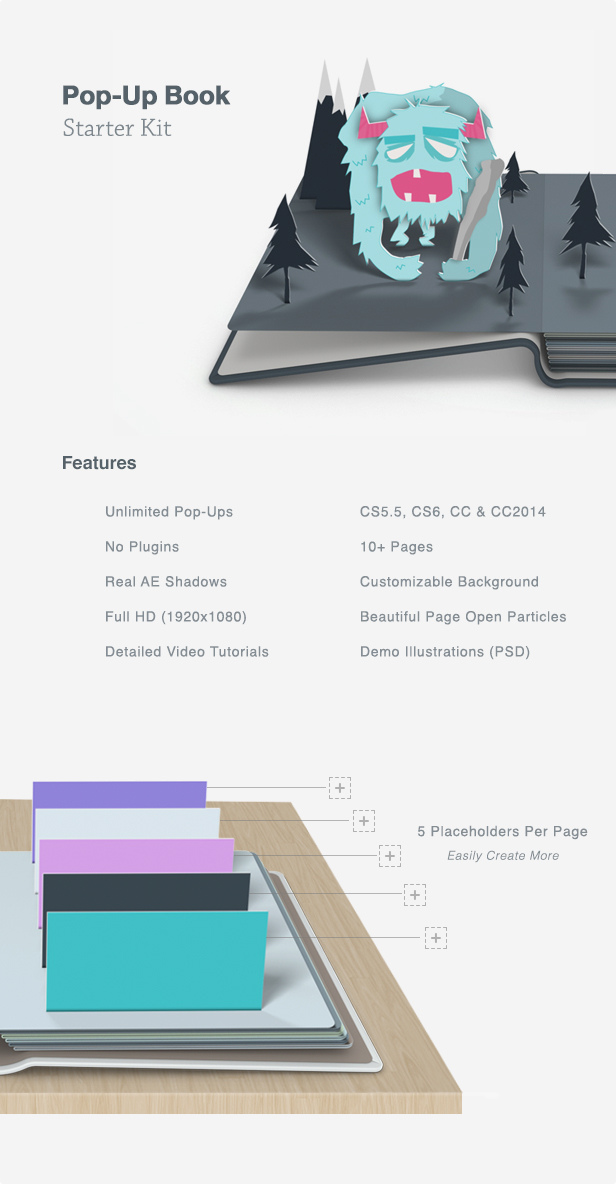 Pop-Up Book Starter Kit features everything you need to create a stunning pop-up book. With a completely customizable scene, cover and 10 pages to fill with your own pop-ups, it's an easy and creative way to bring your story to life!
Check out the Pop-Up Book Starter Kit HD Preview
Testimonials
Excellent Support, and Easy To Create Your Own Pop Up Book Through this nice Starter Kit! Highly Recommend!!
- mark0313
This AE project is mind blowing! The look and feel of the pop-up book shows high quality work has gone into creating this template. I could watch this animation over and over again! Very easy to use in AE with great tutorial support. The author Thomas is quick to answer any questions you may have. I would highly recommend purchasing this project and any other work produced by Thomas.
- DoodlerAnimation
Great idea, great tutorials, easy to follow project and incredible customer support! 5 star product! Will be buying the extended license!
- espressoeducation
A quality product from a quality designer. If you're looking for a pop up book template, well this is it. Incredible detail, customizability, ease of use, support and a quality, beautiful output at the end of it. Will definitely use for other projects. Thanks so much, an absolute bargain for what you get.
- leo16983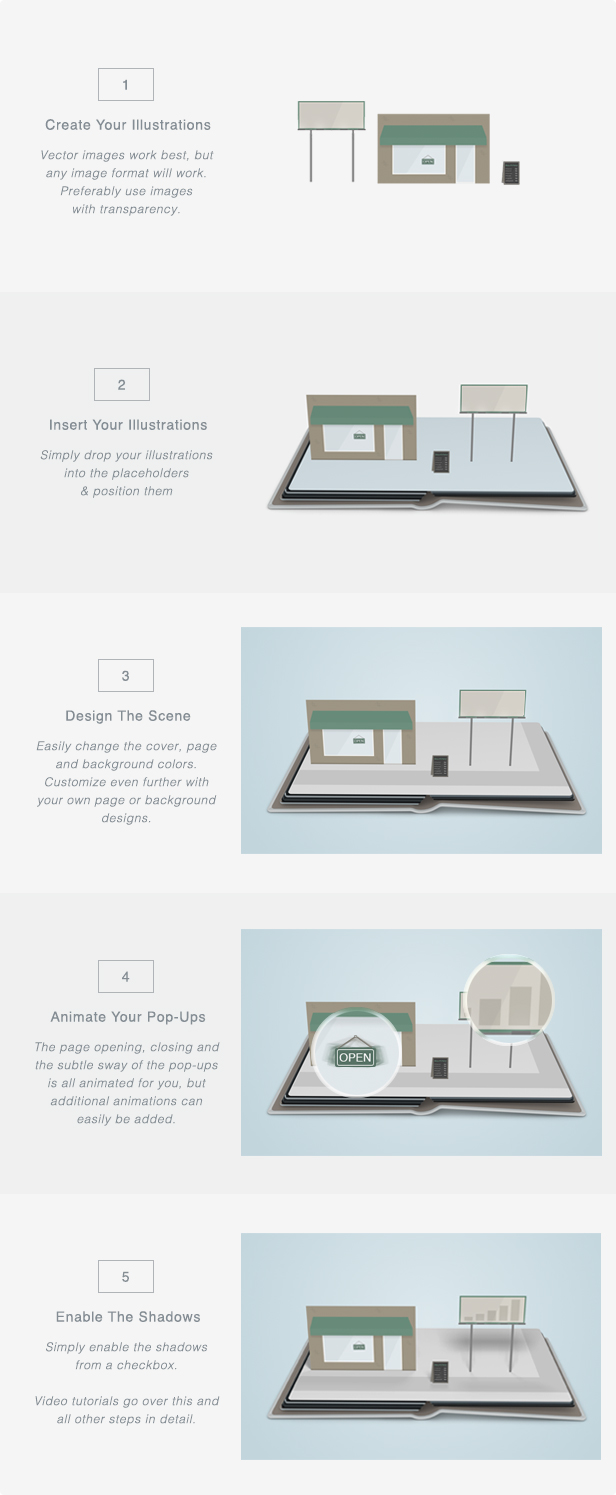 Features
3 Intro Variations
Cover, Pages & Background Colors Editable via Sliders
Unlimited Pop-Ups Per Page.
After Effects CS5.5, CS6, CC, CC2014 Compatible
No Plugins Required
3 Pre-Rendered Trapcode Particular Presets Included – Rain, Snow & Bubbles
All Illustrations from Demo (PSD)
FullHD (1920×1080)
Video Tutorials
Music
First and last song used in demo: Happiness by TornadoMan
Second song in demo: Epic Battle by MidiCable
Third song in demo: Spooky by musicalsolutions
Fifth song in demo: Hopeful Rise by SoundDog
Fourth song in demo: High Seas Adventure by InLight
Sixth song in demo: Christmas by SilverHoof
Note
The reflection effect in the demo was created using VideoCopilot Reflect. It is a free plugin, and is not required for opening the main pop-up book AE project files, only the demo project files.
Update History
4/29/2015 – Version 3.0

- NEW FEATURE: Page open particles
- NEW FEATURE: Control all shadows from "Main" controller layer
- NEW FEATURE: Ability to design back cover

- UPDATE: All shadows directly from main pop-ups comp - no more shadow comps
- UPDATE: New tutorials
- UPDATE: New preview video

5/16/2014 – Version 2.0

- NEW FEATURE: Ability to control camera from within "Zoom" comps
- NEW FEATURE: Design directly on page
- NEW FEATURE: QuickFlip - Turn page directly to page 5
- NEW FEATURE: Enable/Disable Custom Background via Checkbox

- UPDATE: Added support for CC2014
- UPDATE: Universalized Expressions via ExpressionUniversalizer 2.0
1/13/2013 – Version 1.0
Version 1.0
- initial release