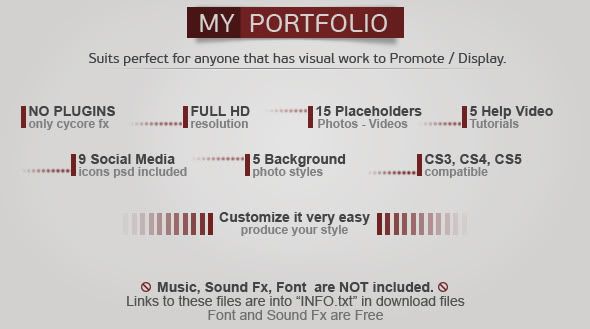 Watch in HD resolution Here
The name of the track is " Cloudless Days " by ADG3studios and you can find it Here
Don't forget to rate it in your downloads section
Other Projects you might like:



" My portfolio slideshow " suits perfect for anyone who has visual work to promote / display
NO plugins (only cycore plugins, also included in after effects), Full HD resolution, 15 Placeholders (photo – video), 5 Help video Tutorials, 9 Social media icons (psd included),5 background photo styles, cs3, cs4, cs5 compatible, Customize it very easy / Produce your style, Music / Sound FX / Font are NOT included. Links to these files are into "info.txt" in download files. Font and sound fx are free.