You need to install Flash Player to watch videos on VideoHive.

Welcome to amazing Control Room template! This one is massive! What do you say about 258 screen placeholders!? Oh, don't worry if it seems too much – it can be only 15 placeholders. Or only 1. Whatever you want. With single drag&drop you can populate every screen. Or, better yet, combine Master placeholders with individual ones. Let your imagination run free. There are so many ideas how you can use this template. In preview, I used it as a network promo, but you can use it for whatever you want. Look bellow for some ideas
No matter what you use it for, one thing is for sure – you will amaze people. So do it!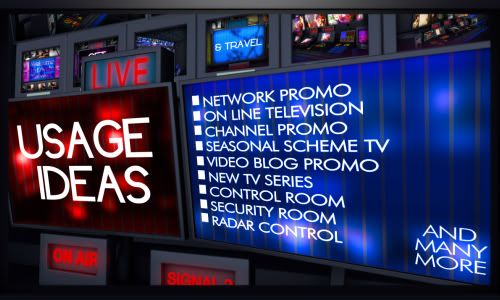 Details:
AE CS5 , 1280×720 24fps
Between 1-258 screen placeholders
Very easy screen replacement
2 logo placeholders
16 text placeholders
On screen animations included
Easy customization
Can be shorter, longer, and re-edited
No 3rd party plug-ins
2 ilustrated pdf tutorials
Images and videos used in preview not included
Movies used in preview: Sintel, Elephants Dream, BigBuckBunny
Audio used in preview is not included but this GREAT track can be bought:here
Thank you for your time, if you buy this template, please rate it! If you need any help, have any questions, or need additional customization – contact me through my profile page